Introducing the Fairphone Recycling Program
Update:  Want to recycle your phone? We can help you if you're from almost any European Union country. Go to our recycling page, and get started by filling out the form. It doesn't have to be a Fairphone. We are happy to help you find a way to recycle any mobile phone (either though our program or locally).
We're excited to announce our new Recycling Program, which creates a special platform for handling your used mobile phones. You can either send your old phones to our partner Teqcycle or use our list of reuse and recycling centers across Europe to ensure that your old friend is either given a new life or is safely recycled. Keep reading to find out how to participate in this unique new program.
Working together to give phones a second life
On average, consumers use their mobile phones for two years before replacing them. But what happens to all those old phones once we've upgraded to the latest model? It's currently estimated that only 7% of these phones are properly disposed of. In 2012, the total stock of unused (but not yet discarded phones) in Europe was estimated to be 1.6 billion… and that number is projected to double to 3.2 billion by 2020 (Source: European Commission Study for Ecodesign Working Plan).
We're launching the Recycling Program to do our part to reduce electronic waste, and we're looking forward to your participation! Our goal is to help our community understand the issues surrounding electronics disposal and give them options for reusing or recycling. Especially if they are still functional, we want to make sure that these old phones don't end up sitting at home in a drawer, or worse yet, in a landfill. In addition, the Recycling Program is part of our legal responsibility as a producer of mobile phones.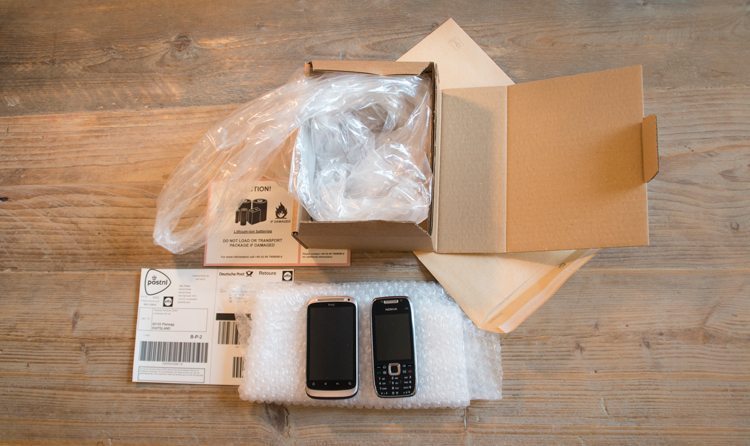 Start collecting your used phones for reuse and recycling. Here's an example of all the materials you need to start shipping back your high-value phones.
How does the Recycling Program work?
The Fairphone Recycling Program allows you to easily return your used mobile phones through our partner Teqcycle. For Fairphone owners only, we're offering free shipping from 26 EU countries and Switzerland (read a full list of supported countries here) to Teqcycle's processing center in Munich.
We encourage you to send high-value used phones to our recycling program. We consider high-value phones to be working smartphones not older than 3 years.
These phones will be checked, refurbished (if possible) and then sold by Teqcycle to professional buyers in second-hand markets in Europe or other continents. The revenues will be used to support the costs of the Recycling Program itself – the remaining funds (if any) after sustaining this program will be redistributed towards Fairphone's social and environmental projects, like our e-waste program in Ghana.
If you have a low-value phone (one made more than 3 years ago, or a more recent smartphone that is too damaged or barely functional), it might be better to drop it off at a local collection point as it's often worth less than the cost of shipping to our partner in Germany. You can always use our value calculator to check if your phone is of low or high value. However, if you are a Fairphone owner, we are legally obliged to accept your old device for recycling, so we offer free shipping on up to two used phones you want to donate.
In case you're not sure where to recycle or reuse your used phones locally, we've put together this handy list of reuse/recycling organizations from 30 European countries for phones and batteries.
Reusing good old phones means that you increase their lifespan and prevent them from becoming waste. In case your phone cannot be efficiently reused (e.g it's too old or too damaged) then you should consider recycling it.  Through recycling, the phone is reprocessed into raw materials for creating other products. Because recycling is an energy-intensive process it is better to do that only when a device cannot be reused any more.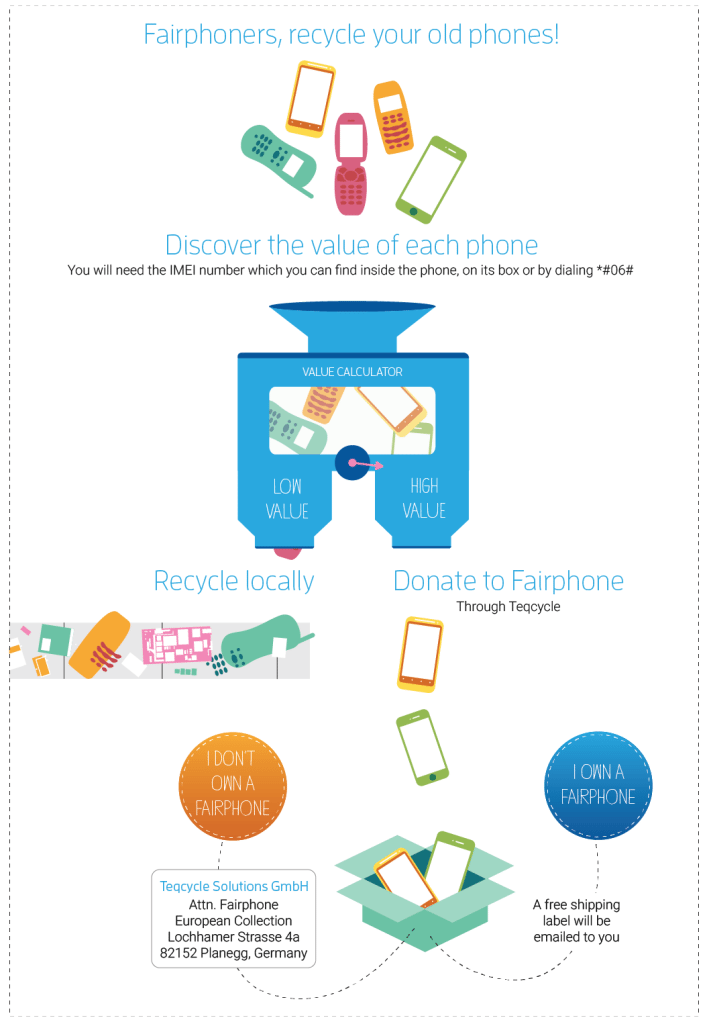 What are the options if you don't own a Fairphone?
Even if you don't own a Fairphone, we still strongly encourage you to drop off or send back your used phones for reuse or safe recycling using our list of local recyclers or your own preferred option. If you like, you can send your phone back to us, but you'd need to cover the shipping costs yourself. Find out more about sending your phone to Teqcycle if you're not a Fairphone owner.
According to a new European law, you can also drop off your old phone at one of the special bins you'll often find at electronics or telecom shops.
Reporting on our impact
As soon as your used phones start arriving at Teqcycle, we'll start compiling data to measure our impact and track what happens to the returned phones. And of course, we'll share the outcome with you. Going forward, you can expect occasional Recycling Program updates on our blog, including information about costs, revenues, how many phones were received, whether they were reused or recycled.
Share your thoughts and ideas
We've put plenty of hard work and careful thought into our Recycling Program, but we'd love to hear your feedback about the process and possible improvements. If you send back your used phone to Teqcycle using our program, please feel free to drop us a note and share your experience and ideas.