Greenpeace guide: Fairphone leads the pack on the shift to greener electronics
At Fairphone, we're working to make phones in a way that's better for people and the environment. Today, we were proud to see that these efforts are being recognized: In their 2017 Guide to Greener Electronics, Greenpeace gave Fairphone the best grade (B) out of all the major electronics manufacturers. And it was the very first time we were included in this report.
We earned the top spot thanks to our step by step approach to creating fairer electronics. For example, the report specifically mentioned our modular design (and new camera module!), conflict-free and Fairtrade mineral sourcing efforts, and focus on easy DIY repairs. In addition, it commented on our goal of making longer-lasting devices, and the research we've done into recycling options for when our phones are no longer usable. Greenpeace was also impressed by our commitment to transparency.
"Fairphone leads the sector in reducing resource consumption thanks to a commitment to design a smartphone that is easy to repair and upgrade, as well as its efforts to improve product recyclability. The company is also most transparent regarding its suppliers." – Greenpeace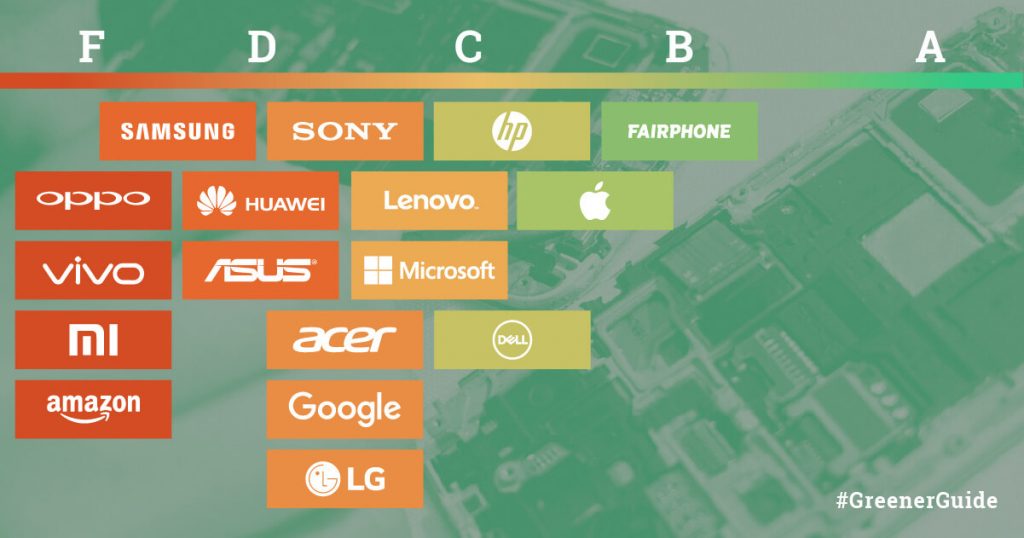 Ranking featured in Greenpeace Greener Guide to Electronics, October 2017.
The industry is making progress, but we've all got work to do
While we're delighted to receive this recognition, our achievements aren't just about Fairphone. What we really want is an industry-wide shift towards fairer electronics. Reports like these help reiterate that the consumers are seeing the importance of these issues, and that many of the big names in the industry starting to improve their own sustainability.
But no matter where you rank, we're all still at the beginning of the journey to make the electronics industry a greener place. We hope that reports like these will provide opportunities for collaboration, as opposed to competition. We have different strengths, and can learn from each other's best practices (and challenges) as we work together to make improvements.
Spread the word and contact your favorite brands
When it comes to changing the industry for the better, consumers wield a lot of power. So keep supporting the brands that are doing it right. Share this report with your friends, family and community. And reach out to your favorite electronics companies to ask what they are doing to make their products more sustainable. Thanks for all your help!