Teaming up with Vodafone
With every phone we make and sell, with every industry partner that follows our example, with every customer who starts a conversation about what makes their phone fair, we take another step forward in our quest for a fairer electronics industry.
Our first challenge was to prove you can make an ethical phone and survive. Now we're out to prove to the industry that it's the best way to thrive. This is our 3rd generation phone. We've learned massively through experience, and that's essential when you're blazing a trail for which no map exists. We've strengthened and professionalized our organization. We've built a more stable and scalable company. We focused on further improvement of our product and supply chain, and we've worked on expanding our impact and sales. Now, we've teamed up with Vodafone. Having the belief and support of such a large operator helps us to bring sustainable electronics to the mainstream market. This truly is one of the strongest signals we can send to the industry.
We sat down with Leon Boshuizen, who worked on this partnership for the last 10 months, to get some insights into what this means for our mission, our company and Leon personally.
Hi Leon, can you give us the quick elevator pitch about this milestone?
The strategic partnership between Vodafone and Fairphone goes beyond Vodafone selling the Fairphone 3 in multiple countries. I especially look forward to our knowledge-sharing collaboration, in terms of sustainability, circular economy and industry requirements, among others. As one of the leading operators in the market, Vodafone gives us a bigger platform, the credibility and the scale we need to change the industry together.
What makes Vodafone a good fit for us?
Vodafone made a commitment to becoming a purpose lead company. Driven by senior management within the company, they are looking to halve their environmental impact by 2025. In our months working together on this partnership, it became apparent how serious Vodafone is about their sustainability commitments, so we're happy to partner with them and contribute to these goals.
If you turn the question around, Fairphone is a good fit for them as well, since we are the recognized experts in sustainable smartphones – Because of the products we offer, but also based on our knowledge in value chain projects and rooted in our long-term efforts to change this industry.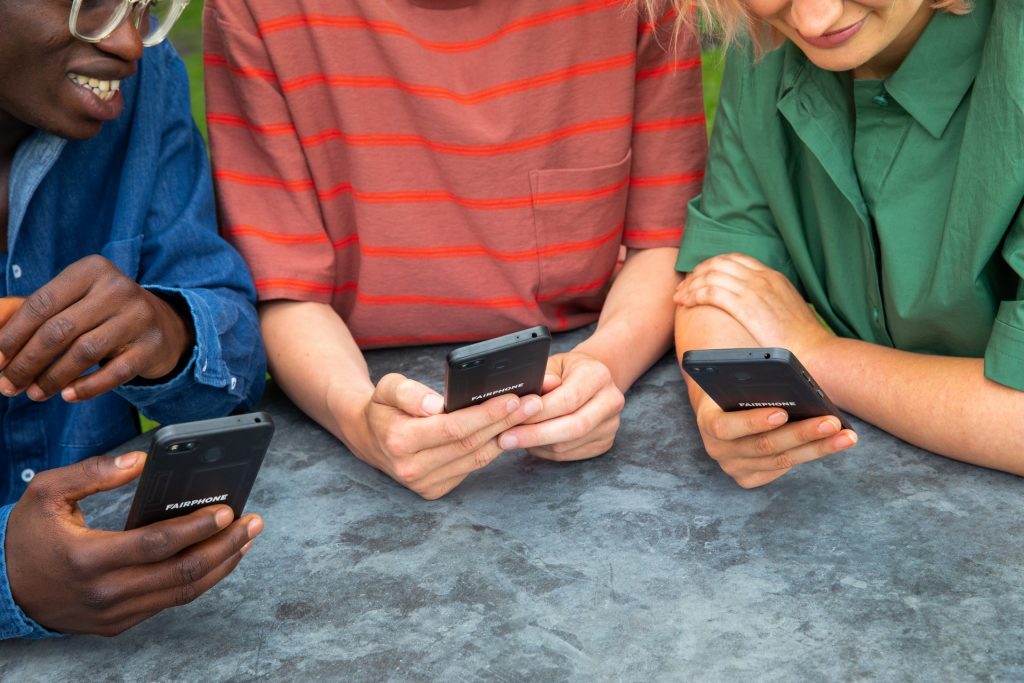 So what does this mean for customers in Europe?
With Vodafone's enormous reach, we're really increasing our visibility. Now there are far more shops across multiple countries – the UK, Germany, Italy, Spain and Ireland by the end of 2019, to be exact – for anyone interested in the Fairphone 3 to see and test the device. I always say, that seeing is believing.
And what does it mean for Fairphone as a company?
We really stepped our game up, scaling up to work with one of the largest operators in the world. Which means, we matured into a professional organization, meeting the demands of these big operators. This is a great proof point for our mission to create a demand for ethical consumer electronics. Within the week after the Vodafone announcement, we've seen a boost in leads and requests from within the industry. So this partnership really is a powerful signal to other players in the industry.
What does it mean for you personally?
Having worked for Vodafone in the past, on a personal level, this partnership makes me really proud as well. It was a long term project and having people who believe in it on both sides really kept the momentum going. There was a lot of conversation and discussion for about 9 months and in the end, it really kicked into hyperspeed. This is more than just a business deal – it's something that truly matters. Benefiting people and planet. Actually, in my 13 years in this industry, this partnership deal means the most to me.
Thanks for your time, Leon.