Fairphone's online support gets a refresh
In our last customer support update, we hinted at some improvements we were working on to give you a better experience. And we're ready to share a big one: have a look at our updated customer support section! We rearranged the layout, improved some content and added a couple of great new features to make it quicker and easier to find the answers you need.
Find what you need, faster!
While we made a few cosmetic changes to better align with the look of the rest of our website, most of the improvements were designed to help you find relevant information as quickly as possible. Because when something is going wrong, we know you want a solution right away.
The first thing you'll notice is a more powerful, more accurate search tool. Similar to a regular search engine, it offers suggestions as soon as you start typing, displays the most relevant results first and can easily take on typos. The improved search function also pulls results from all of our platforms. By clicking on "view more results" you can see the results in a full-screen view, plus filter them by source (shop, blog, support and forum).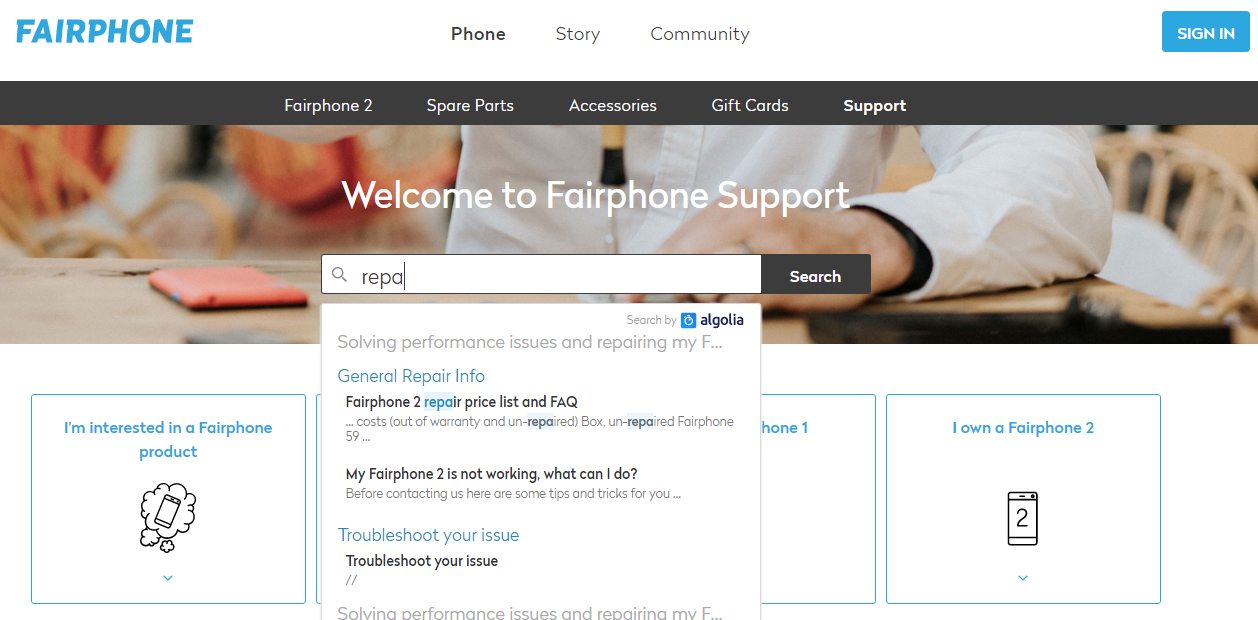 Next, we grouped the support articles more intuitively based on your needs. So whether you're interested in one of our products, recently placed an order or already own a Fairphone, you can now find an answer in just three clicks. We also reviewed and improved our content to reduce clutter and ensure the information is relevant, clear and up to date.
In addition, our new support section is mobile friendly to ensure you have a great experience no matter what device you're using.
Take control with DIY troubleshooting
We're especially pleased with our new troubleshooting tool designed just for Fairphone 2 owners. From now on, this should be your first stop when you're having an issue with your phone. It walks you through some of the most common problems to help you diagnose, and hopefully fix your phone without needing to contact the support team.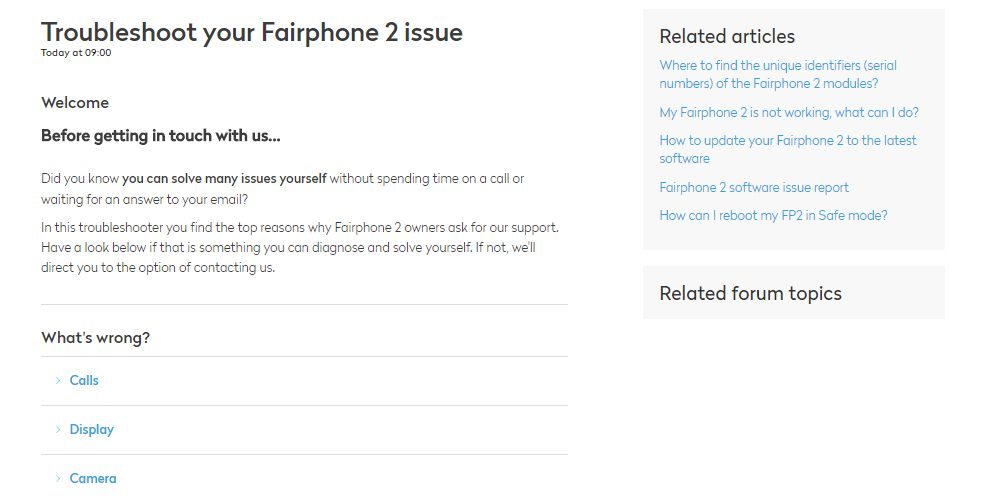 But even if you aren't able to solve the problem on your own, the troubleshooting tool will help you get a better, faster response when you do get in touch with us. Based on the symptoms you are experiencing, you will be able to start diagnosing the problem and then send us the results. This will reduce the number of emails and calls required to get to the bottom of your issue – drastically cutting the time you need to invest to get a clear solution.
So if you're having any issues with your Fairphone 2, please try out the DIY diagnosis tool first!
Community experts to the rescue
Our community is one of our most helpful resources, but until now, you could only find their contributions by visiting the forum. The new support section design lets their expertise shine by making it easier to access community input. When you read an article, you'll now find a section to related community articles from the forum on the right side of the page.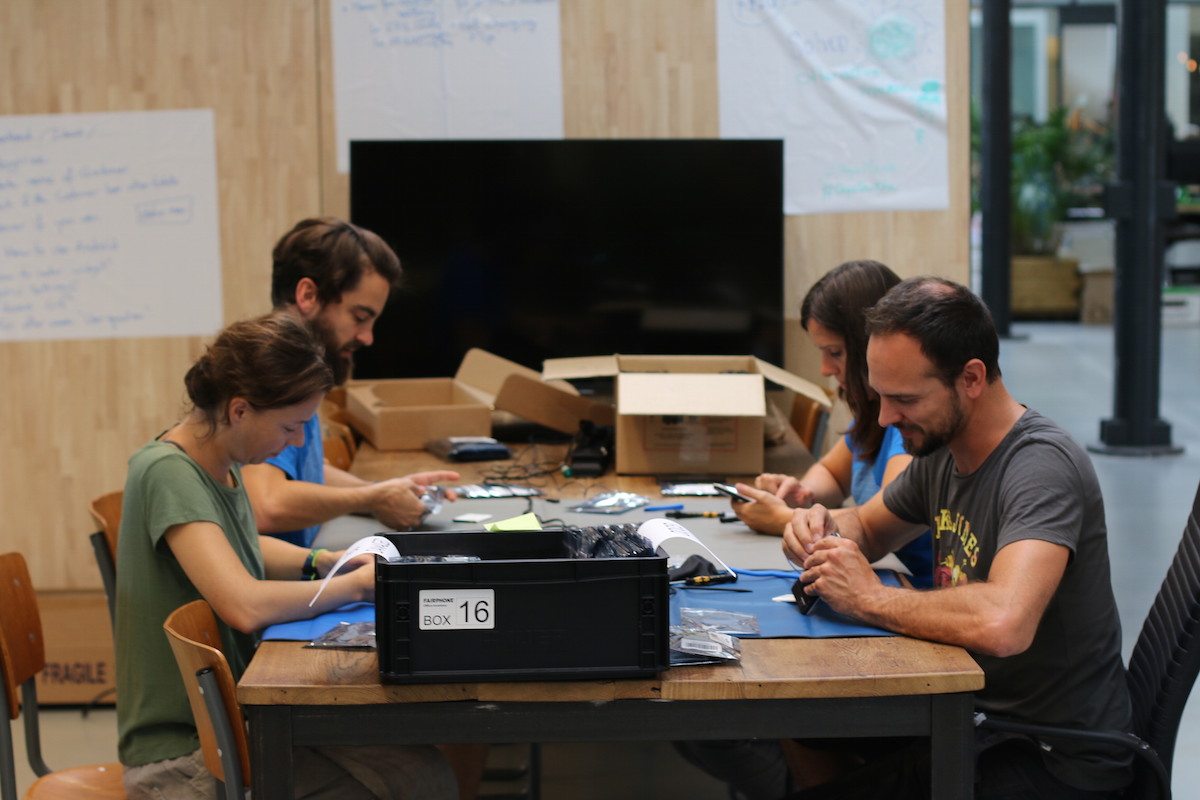 Community members help us in the office during the 2016 European Fairphoners Community Trip to Amsterdam.
The improved layout also encourages community feedback to ensure that the most useful articles appear first… and that less-than-perfect articles get reviewed and improved. So after you've read one of our articles, please rate it with a thumbs up or thumbs down so we know if it was helpful.
Android 6.0 now available
As you may already know, Android 6.0 Marshmallow is available for the Fairphone 2. In our recent blog post related to this great news you can learn more about the benefits and changes to Fairphone 2 users.
We've also published a new support article on how to update to Android 6.0 Marshmallow. There you will find step-by-step instructions in order to run this Fairphone OS version on your device. Keep in mind that your Fairphone Updater app must be up­-to-date for you to upgrade your device. If you have any difficulties during or after this process, don't hesitate in contacting us!
Help us keep improving
It's not ready just yet, but we're working on one more way to get the community involved in making our support content the best it can be. Sometime in the coming months, we'll be launching a new function that allows you to make edits and give feedback on our articles. We'll let you know more as soon as it goes live.
We hope you find our updated customer support section more informative and easier to use. If you have any additional suggestions for improving your experience, please let us know in the comments below.