Scaling up our social enterprise – challenges and achievements
Updated on 9 June: We have updated the Fairphone 2 delivery date to match the current demand and Fairphone 2 stock levels. Starting from 8 June, new Fairphone 2 orders will be delivered by 31 October. We are continually working to shorten this delivery timeframe to get the Fairphone 2 to customers sooner. We appreciate the patience of our Fairphone community!

It has been a year since the Fairphone 2 started shipping. We are excited to share that over the past year, our company and the amount of people and organisations supporting fairer electronics has grown, with Fairphone owners alone surpassing 130,000. This journey of scaling up our business has been both amazing as well as challenging. We've made positive progress in many areas, but we have also stumbled upon some hurdles. Although the Fairphone 2 is more widely available through our resellers, new orders through the Fairphone webshop have been pushed back.
To be clear, with our current production capacity we can deliver all pre-ordered phones to our business customers and webshop customers before the end of January. The Fairphone 2 is still available through many of our resellers, only the delivery of new orders through our webshop will be pushed back with new deliveries arriving before the end of May (see updated delivery timeframe above).
In this blog, we look back at some strategic choices in the last year and explain the dynamics involved in growing the Fairphone business, some of which have lead to the extended delivery times.
Looking back at 2016
Fairphone's ultimate goal is system change. To achieve this, we need to grow and become a more prominent player in the industry so that we can improve our relationship with suppliers. One way is to gain more exposure and support for what we are trying to achieve, and in 2016 Fairphone was mentioned over 6,000 times in global media and we have over 250,000 followers across all our offline and online channels. But we have chosen to be an enterprise and to make change through our business model. To really scale up impact, we need to grow through the market, increasing demand for fairer electronics. That means increasing availability of the Fairphone 2 in more countries in Europe.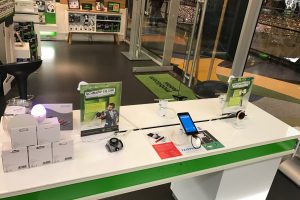 Fairphone 2 available in mobilcom-debitel shops across Germany
To this end, 2016 saw the company's focus on increasing our distribution channels, boosting our internal processes and operations and continuously
updating the design
and quality of the Fairphone 2. An important focus has been on securing funds to finance our production as well as sufficient demand to maintain a good relationship with our suppliers. Scaling up our business should ultimately result in scaling up our impact.
Making the Fairphone more widely available through operators and resellers
This meant a big change for Fairphone. Although we have worked with several committed resellers before, many internal processes were manual and required a lot of patience from both our partners as well as our internal team. So, in March 2016, we made a strategic decision to focus a lot of our resources, both time and the people working at Fairphone, on increasing our distribution channels. This meant that besides our commercial focus on online sales through our website, we set up a team who started the conversations with business partners, NGOs, resellers, operators and distributors.
Our new team members (as well as some existing ones) spent most of last year on the phone, travelling and talking to potential partners who support our mission and want to collaborate on making Fairphone more widely available. We invested in sales operations to improve our service levels and purchasing processes both for larger operators, distributors and resellers.
The market for the fairer electronics is growing
We are proud to say that the team has done a great job in the last year and we've really grown our community of resellers, with the Fairphone 2 now available through a number of trusted partners in several countries, such as T-mobile in Austria, Vireo, Memo,1&1 and mobilcom-debitel in Germany, KPN in the Netherlands and Sinndrin, Swisscom and Digitec and Why!opencomputing in Switzerland and The Phone Co-op in the UK. An overview per country can be found on our business page.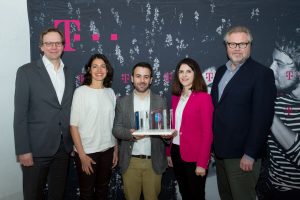 Fairphone and T-mobile Austria launch their partnership, March 2016
A major challenge, however, for a scaling start-up is setting up and working with a reliable six-month forecasts that help us place orders on time and give the manufacturer the certainty they need to start sourcing materials. Unfortunately, the sudden increase in demand recently didn't match our stock situation and with certain components running out we can not ensure a continuous production for future customers through our webshop.
Where and when is the Fairphone 2 available?
You can currently purchase the Fairphone 2 through our partners' on and offline shops. Find out on business page if there is a reseller near you and if you want to see a Fairphone first before buying one, check our interactive map below for a physical store, museum or partner showroom near you. Note that with our focus on scaling up through partners, the phone will be available through their channels sooner than through our own in the new year.
We will be working on improving lead times to shorten current estimates for delivery through our own webshop, but for now delivery of the Fairphone 2 for direct orders through our webshop has been extended with new orders arriving by end of May. Please note that all pre-ordered phones in 2016, will be delivered to customers before end of January. Through our customer support, we will be focussing attention on customer care, reserving phones and spare parts to service existing customers and making sure all spare parts are available as soon as possible through our webshop.
Your purchase matters
For all buyers who want to buy a Fairphone today, please know that your purchase matters to us. It is a direct investment in our company and our mission. Whether you buy it through our partners or through us, it helps us to continue our research, projects and the journey towards fairer electronics. Thank you for your support. Even though we are working more closely with business partners to scale up, we wouldn't be where we are today without the continuous support of our community.