UK launch of the Fairphone 2 at London Design Festival
We're packing our bags for the UK as we get ready for our pop-up space in London during the London Design Festival. Starting Saturday, 26 September, we'll showcase our latest smartphone taking visitors behind-the-scenes of producing a mobile phone. Register for the weekend to let us know that you're coming.

Our two-day pop-up event near London Bridge will be a hub of interactive workshops hosted by renowned industry players who are using design to change the way we connect to our products. Throughout the weekend from 10:00 to 6:00 PM, the space will be open for the public to see and play with the Fairphone 2.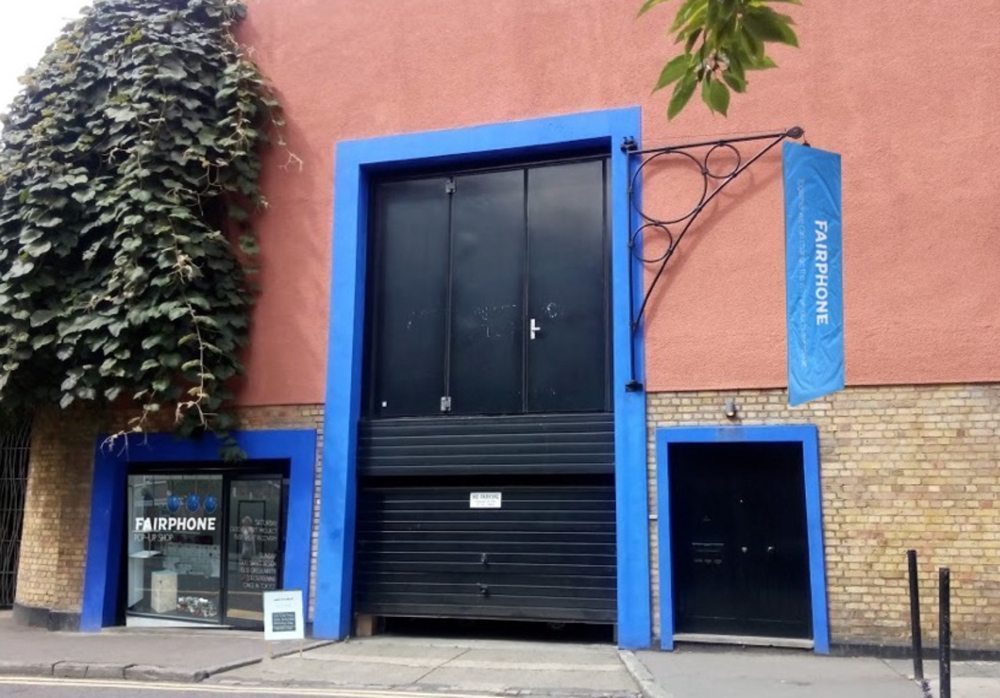 Follow the Fairphone blue – see you at Melior Place near London Bridge on 26 & 27 September.
In a nutshell, we'll be rolling out hands-on workshops on repairability with The Restart Project, product design with Seymourpowell and software with Kwamecorp. Bethnal Green Ventures will be hosting a panel discussion on social business with B Corp UK and other social entrepreneurs and we'll be finishing the weekend with a film screening of "We Will Win Peace" with a Q&A on international advocacy for conflict-free minerals.
To get an idea what's to come, here's our pop-up from 2013:
Fairphone Meets London: Pop-Up Space from Fairphone on Vimeo.
Full program of the weekend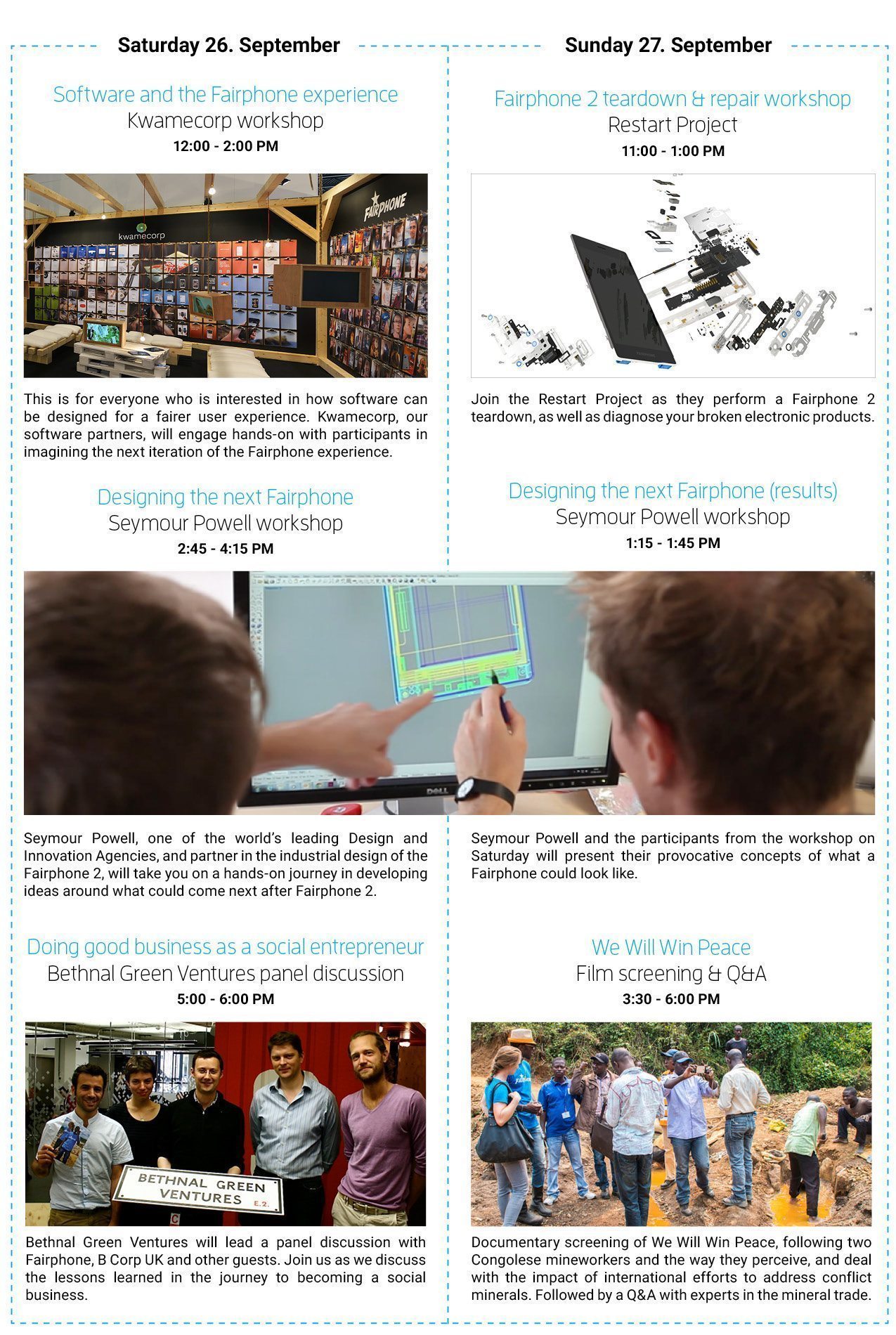 Saturday 26 September
Kwamecorp – Software and the Fairphone experience
12:00 PM to 2:00 PM
Register now
Seymour Powell – Designing the next Fairphone
2:45 PM to 4:15 PM
Register now
Panel discussion: Doing good business as a social entrepreneur
5:00 PM to 6:00 PM
Register now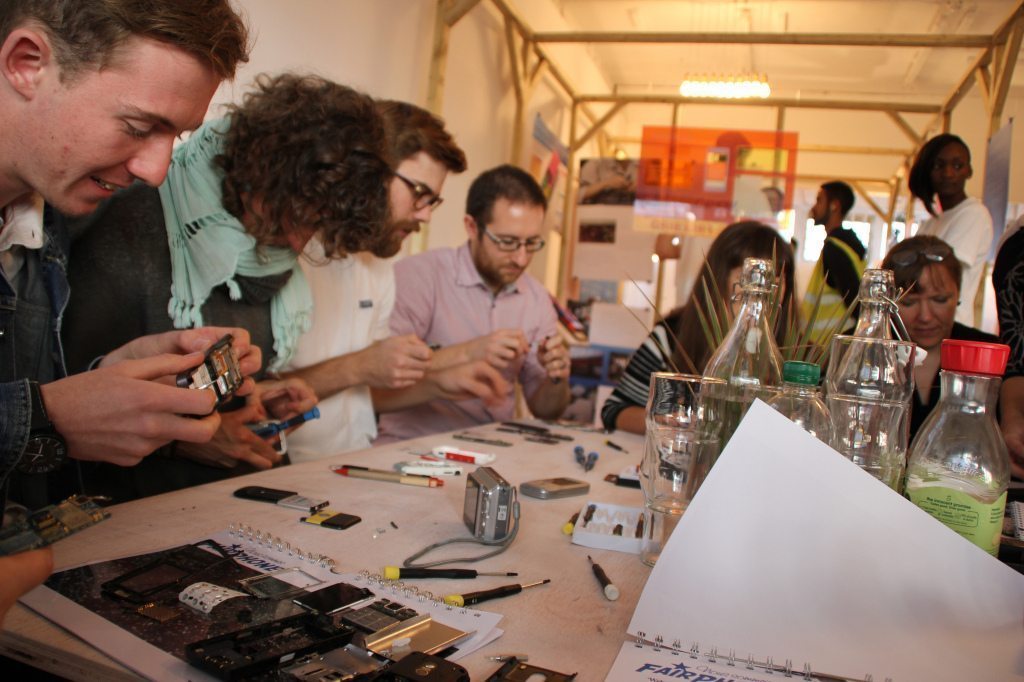 Urban mining during our last pop-up.
Sunday 27 September
Fairphone 2 teardown and repair workshop
11:00 AM to 1:00 PM
Register now
*Recently added
Opening up the Fairphone 2 software supply chain
1:30 PM to 2:30 PM
Register now
Film screening and Q&A: We Will Win Peace
3:30 PM to 6:00 PM
Register now
More events across Europe to come
The UK launch at the London Design Festival marks the kickoff of Fairphone's Europe-wide tour. In the coming months, the Fairphone 2 will be on display at a number of events, including:
Similar to the London event, this upcoming roadshow will feature hands-on demonstrations and workshops. We hope to see you there at one of our stops – or tell us where we should go next in the comments!