Second batch delivery begins
The second batch delivery has officially begun! On Monday 21 July, the first phones arrived at the distribution center in the Netherlands. Beginning Tuesday 22 July and throughout the week, this shipment of nearly 1,000 phones has made its way across Europe. But we know there are still many more phones to account for and in this blog post, we will begin "the numbers game". This will be the place for you to come to see the latest official phone shipment numbers as we confirm them.
For an estimate when your phone is shipping, please reference your "queue" number which is the number in the top-right corner of your confirmation e-mail. Compare this to the table below. Please note: This queue number is based on paid order date.
This means our estimate is that Fairphone buyers with a "queue number" less than 22,509 should receive a shipment e-mail with tracking code by Monday, 22 September. We will update the graphic below when we have more insight into phones shipped from the distribution center.
Our customer support is trying their best to reply to your questions, and we appreciate your patience. We'd like to emphasize that any upcoming insight into phone shipments we have is shared directly with you here in the blog.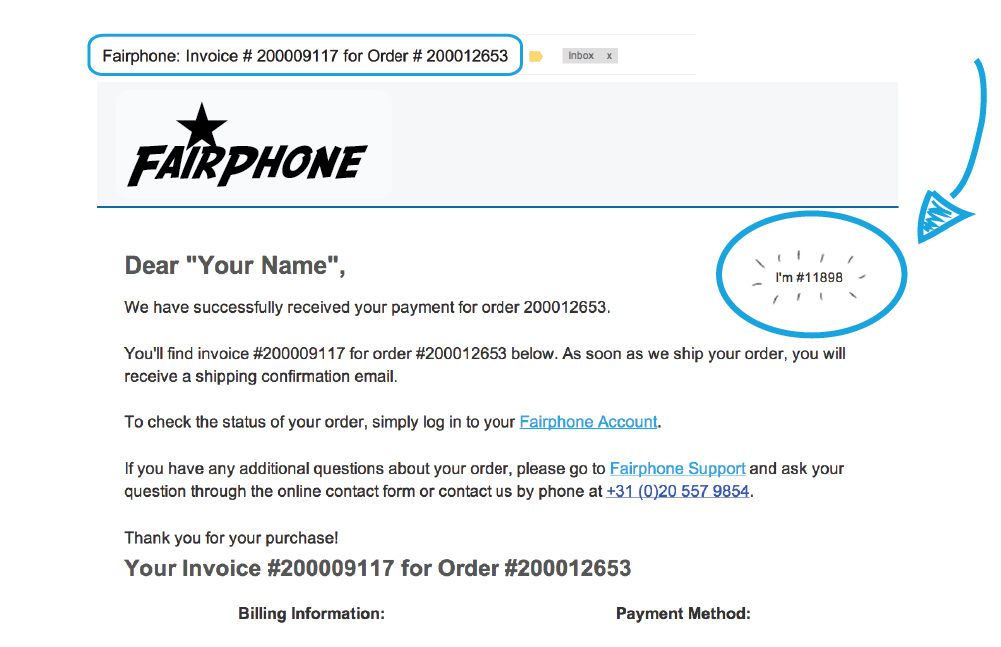 In the table below you can find the latest numbers of phones arriving in the Netherlands and shipping across Europe. Updated 16 September.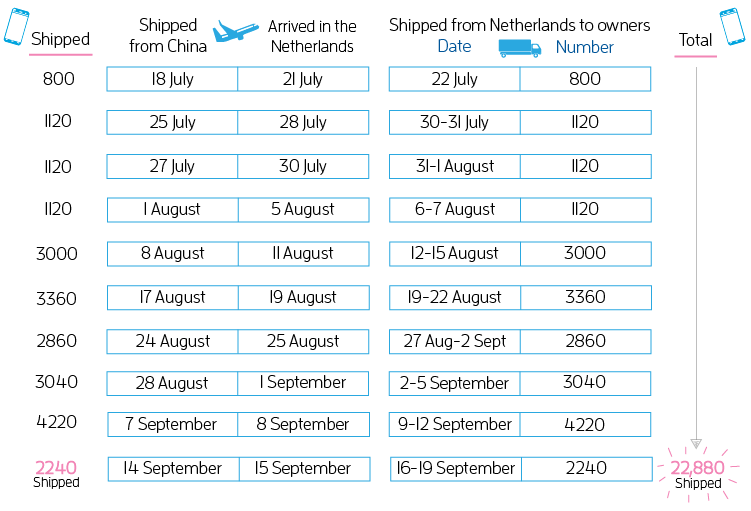 Once we announce phones have arrived in the Netherlands, the general timeline is:

3-5 working days with order preparation at distribution center in the Netherlands
2-7 working days shipping across Europe, depending on country of residence
Again, keep in mind our general timeline indicates that each phone shipment will have 1,000-5,000 phones – generally per week, but sometimes more frequently.
As you know, phones ship from our production partner's factory in Chongqing, China to our distribution center in Tilburg, the Netherlands. Once the next shipment arrives in Holland, we will update the table below in this blog post. We would prefer not to give estimates of the number of phones being prepared in China, as we've learned from experience that there are a number of factors that could cause delays and create disappointment if we announce the expected number of phones to leave China.
Just one example: This week, we were almost certain another shipment would leave China earlier this week. However, as the shipment was on its way out of the airport it was flagged randomly by customs for inspection causing a few days of delay. We also came across instances where weather (indeed, this can still cause delays!) prevented shipments within China for certain necessary components.
How can I keep updated on my shipping status?
Log-in to your account.
The most precise information about your shipping status can be found with the status update on your account. More information about each status update:
Pending or Waiting for Payment – Your order has been placed and payment is being processed with one of our external payment providers (PayPal, Bank transfer, or Sofort).
Processing – Your order has been paid and is waiting to be prepared for shipment.
Preparing Shipment – Your order has arrived at the distribution center and is waiting to be packaged.
Awaiting Shipment – Your order is packaged and is waiting for the carrier service to pick it up.
Complete – The carrier service has picked it up from the distribution center, and it's on its way to you! At this time, check your e-mail and spam folder because you will receive a tracking code for your order (DHL and GLS shipments only; not normal shipping methods or cases with free shipping).

The community is getting excited! Join the conversation at #WeAreFairphone.
Current delivery outlook for the weeks ahead
As we've mentioned before, there are a number of shipping factors that could alter the delivery time of your phone between the moment phones leave the factory in China and get to your doorstep. But we understand you need a frame of reference for planning your delivery address for the holidays, or you just want to know a rough idea when it will come!
To give you some reference to the number of phones being shipped in the coming weeks, it is roughly 1,000-5,000 phones per week. Please keep in mind, batches of phones shipped from China per week will be slower at the beginning and current estimates expect these numbers will become larger as we move into August.
For those of you who want the option of receiving your phone after the summer holidays, you can choose to delay your shipment until September. Do that by contacting our customer support using the Support button on our Support site with the title of your issue as "Delayed September Shipment".
Thanks again for your patience. We'll continue to update delivery details above as phones arrive in our distribution hub in Europe.