Production Update: Delivery Timeline
Introduction
Time for a big update, guys! In this blog post, I'll be outlining what we've been up to in-office over the summer directly after our pre-order campaign ended June 14, to where we are now, and into the months ahead before the phone will be delivered to our beloved Fairphoners. We've got lots of dates, explanations, definitions, and stories to share with you – so strap in, grab a cup of coffee, and let's go!

Below, we'll lay out what all needs to happen to develop, produce and import a phone and provide you with insight on all the complexities we've met along the way. We hope these steps will help explain the reality of the production process, and more concretely, the delivery date estimate we can make at this moment.
But without any more introduction, let's break the tension and tell it to you straightaway: After a lengthy process of communicating production schedules and dates with many partners, suppliers, and especially our production partner A'Hong, the delivery date for the Fairphone is now set for late autumn, namely in December.
First, let's take a look back to the heyday of our initial crowdfunding campaign: May 21 to June 14. Not to toot our own horn, but we had the good fortune to have some amazing community support – within 3 weeks we had doubled our fundraising goal of 5,000 phones to push our little pipe dream into reality.
But then what happened after June 14? Well, all the administrative, boring stuff you never hear about! Up to that point, we had an initial relationship and agreement with our production partner, A'Hong. Their Design and Engineering House had taken us seriously as a small partner with serious social and technical requirements even though we had no finances to back it up yet. In fact, they agreed to collaborate on our crowdfunding model, providing us with a handset design to offer to our community before we had the money to commit to an actual production run. Now that we had the means, we needed to negotiate and formalize the Terms and Conditions, talk about the transparency and commitment to ethical trade we could provide together, and reaffirm our commitment to a long-term relationship.
JUNE/JULY
So at the end of June, we had 4 weeks of contract negotiations (sending lots of drafts back and forth) to go from initial commitments to firm, formal terms and agreements. Once we had formalized the terms for collaboration, we transferred the down payment and could take the next steps in development and production. Luckily, A'Hong was already working on parts of the software and hardware engineering before the down payment to continue production along, but it was that large initial cash transfer that enabled the purchasing agreements and our sub-contractors to start making components (like that fancy Dragontrail glass from Japan).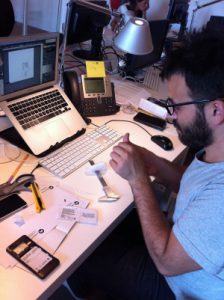 The production of a phone is a huge coordination of lead times, suppliers, and subcontractors to all come together at the right time, so of course we had to think, how demanding a shorter production timeline will affect the workload and working conditions of the workers at the factory and we were conscious of this. Thankfully, Mulan, our project manager with a background in Sustainability Management, joined the Fairphone team and after meeting with the core crew in Amsterdam she jumped onto a flight to live in Chongqing and work at the same factory where we produce the Fairphone.
AUGUST
While SOME of us working at Fairphone got to take a little summer holiday, August was really a crucial month for getting sh*&t (stuff) done! That means tangible materials we produced for behind-the-scenes aspects separate from the phone itself.
We worked on packaging (expect some nice surprises!), labels in and on the phone, the user guide, and translated Kwame's operating system tutorials. I (Miquel) did a little dance of joy when I found out that we had passed the production quality tests to use post-consumer recycled polycarbonate in the housing of our phones, which means much less CO2 during production. This means that the phone casing (30% of the weight of the phone) will be made from recycled plastics, stuff that comes from discarded plastic products!
And, very importantly, August was also the time in which the social assessment by independent assessment agency TAOS took place and when our first pre-prototype arrived. Mulan, with the help of Sean, our Sustainability Officer, will have an update blog post shortly on these results and steps forward on our social assessment program.
But to get back to the pre-prototype, this is the hardware that we needed to make to work on the final engineering and design of the Fairphone. We received two engineering samples (handsets) mid-August with which we have tested things like the new processor, camera, and camera sensor and made tweaks. Next step: the manufacturing prototypes. These prototypes are essential to take the next step in our production process and they arrive this week! Once we have these prototypes, we can start testing and begin the whole certification process. Based on the outcomes from lab testing, we will need to make final tweaks to pass and receive all the required certification we need to sell our devices to users in Europe. So, September is an important month.
SEPTEMBER
As September comes 'round the bend, we look forward to the last leg of production. Getting the prototype out there to certification labs, working on the final software updates (with an engineer that has flown in from our manufacturer in Chongqing to our software developers, Kwamecorp, in Portugal, and optimizing the Fairphone before we go on to production (e.g. circuit board manufacturing and assembly).
As you know, Kwame has been developing some features on top of Android that will be open-sourced to the community. More on this in another blog, or else we'll never get to December.
As I mentioned earlier, in order to start certifications, we needed a prototype, which takes a few months. Because A'Hong has never before sold devices in the EU, we needed to start up the procedures for certain certifications that had not been done prior to working with Fairphone. In addition to that, the model they had tested before has now been upgraded and adapted significantly to actually be considered an entirely different phone.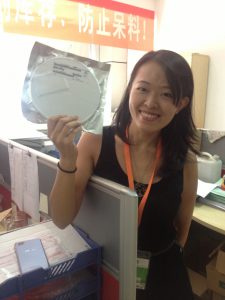 Another good thing to know is that the Fairphone uses material from one of the first batches of tin that comes from South Kivu (from Kalimbi mine among others) in DR Congo via our participation in the Conflict-Free Tin Initiative. Also one type of capacitor uses material (Tantalum) from the Solutions for Hope project, coming from North Katanga in DR Congo, both projects from part of the Solutions Network.  By the way, this means a new supplier and supply chain for A'Hong, so soldering paste and capacitors needed to be tested separately. Luckily they are no longer stuck in customs!
We need the space of entire blog post to get into all the procedures around certifications and directives. All I can tell you is that's its a very intricate puzzle with a lot of players all waiting on each other to make the next move. Once we get an update the third week of September, we'll have more information in a blog post.
OCTOBER & NOVEMBER
After testing and certifying come production and assembly. This is the month that all the components need to have arrived at the factory. Production starts with the printed circuit boards (PCB) manufacturing and ends with the assembly of all components before being packaged into special Fairphone packaging. By the way, we have several media who have shown an interest in covering mass production, which means that you will be able to get a first-hand account of what's involved in the factory in Chongqing.
DECEMBER
After mass production is completed and the production quality has been verified through a quality assurance inspection, the phones will be packed and moved from the factory in Chongqinq to the airport of Shenzhen (or Hong Kong). From there, our logistics partner will ensure that the phones will make it to the Netherlands, where they will be sent to our distribution hub. Then, the orders will be individually packed and prepared for their final leg or their initial journey as they are handed over to the postal and package delivery companies who will bring it to your home.
Doesn't the year feel almost over, already?! With all the events, presentations, and blog updates we're planning, we'll be having lots of places for you guys in the community and the Fairphone team to hang out together.
One Last Thing – we're selling 25,000 phones
You may have noticed the phone counter has changed, as we're selling 25,000 not just 20,000 phones! We've decided to raise the number of phones on the first production run for a number of reasons. We see the sales via the website steadily growing and we've also seen some good interest from other sales channels such as mobile network operators and retailers. An additional 5,000 phones will actually ensure that we'll have enough inventory to meet the rising demand and since most of the costs to produce the first batch of phones are fixed, the additional phones we will sell will actually secure some capital for the next steps.
In Other News
Gabriel and Pablo left the team to follow -respectively – studies at ESADE and MIT Sloan (doing an exchange from IESE)(we miss you!). Our team keeps on growing, so we are looking for a new office (know any Amsterdam openings?) and we're always having new, fun challenges knocking on the door. We are developing the research side of our organization (more to come). And we continue to work on initial thoughts on the early future after this first launch.
And you, of course, are part of it.