Community Update – Halfway Point!
It's Tuesday, May 28, and this is your Community Update! We've been thrilled and overwhelmed by the support that you guys have been sending us. Whether you've posted words of encouragement on Facebook, shared our campaign video to your friends, or just BOUGHT the phone! I'm so happy to have such a committed, inquisitive, sometimes critical but always supportive community!

From the moment I write this, the current phone count is: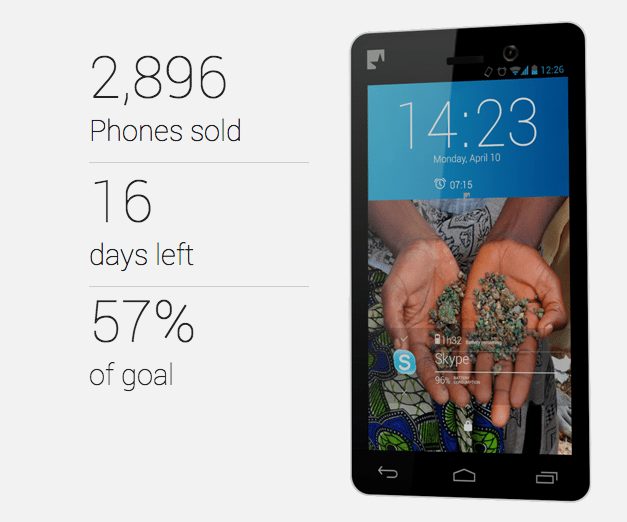 Which means:
WE STILL NEED 2,106 PHONES SOLD TO GO INTO PRODUCTION!
I'll keep it short. My main purpose in this post is to share with you guys a video I made with my friend Erwin – where I explain the whole process of what happens when you buy your Fairphone.
So if you're wondering, WHY does Fairphone need money in advance, WHAT is going to happen over the summer, and WHEN will I get my Fairphone – you should watch THIS video.
Fairphone: Pre-order explanation animation from Fairphone on Vimeo.
I also would LOVE it if you could share this with friends and communities, as it's my personal message from me to you guys! Spread the word!
A few other logistics I want to let you know about:
1) We've updated our FAQ, compiled from real questions you've asked us. Find that in the top header!
2) The Webshop is now in Dutch! We are working for it to be in German, too, that should come by the end of this week.
3) Some of the "undetermined" parts of the Spec page are updated; these updates are found in a Logbook at the bottom of the page. To make it easier, here are some quick update for you guys:
Gyroscope and E-compass are CONFIRMED
Faster Internet CONFIRMED. Our UMTS rate is now better. It was "HSPA DL/UL, 7.2 Mbps/5.76Mbps" and it changed to "Upload: category 7 up to 11.5Mbps, Download category 24 up to 42.2Mbps"
Our Video Decode Format is better with 1080p! (MPEG4/H.264:1080p@30fps). That means you can record full HD. Better when you enjoy your videos on your TV, for example.
Finally, I want to point out that at the bottom of this blog post is the"Disqus" tool, which allows you to – um, DISCUSS! We hope it's a good space for you to comment and react to these posts. In the future, we're working on other tools to help facilitate discussion amongst the community, so if you have any recommendations or tips on that please write me at joe[at]fairphone.com
That's all! Let's get to FIVE THOUSAND!
*Thanks so much to Baola for the awesome care package – see image above!