My Fairphone App: Your digital sustainability tool
I'd like to kick things off with a quote from tech reviewer Marques Brownlee: "We only have one earth. Hot take – we should be taking better care of it!"
For the better part of a decade, we've worked to normalize this idea in the electronics industry. However, when your goal is to set new standards and reshape an entire industry, you're looking at a long road ahead. There's never been another traveller on this road, and it's up to us to count the miles, remember the bumps and know that this is how change happens: a crazy, impossible thing simply gets done. And in doing so, proves that the people who believe in impossible things aren't crazy at all; they just choose to see a little further down the road.
So, here's something new for everyone who's along for this ride: We've completely redesigned the My Fairphone App, from the ground up, to be your individual guide to a more sustainable lifestyle. Track and reduce your CO2 emissions, get to know your Fairphone and everything that happens behind the scenes, connect with like-minded people and sustainable businesses in your area or join our green challenges.
The app is available for download, so you've got two options: Give it a go right now and see for yourself, or stick around for an overview of the updated features.
Really get to know your Fairphone
Each of your phone's modules now comes with a handy passport. Here you will find an increasing amount of content about where the materials in your module come from, how the module is made and how we designed it to be sustainable. You can find it under the "Phone" section of the app. Like many things at Fairphone, we'll start small by opening the door to what's going on inside your phone, and over time we'll add more and more information to really break down the barriers and let you see what goes into making a phone and what is going on inside of it.
Fairphone support, right in your pocket
We want you to be able to take advantage of the many support services we offer by bringing them even closer to you and putting them right in your pocket; ready for whenever you need them. So in the updated app, you will find a troubleshooter with integrated tests that can check the hardware on your phone. You'll also be able to connect with our customer support team and manage any questions or queries you may have directly from the App, as well as access our many, many support guides to help you get the best out of your phone.
Community on speed-dial
Our community-run forum has been going from strength to strength in recent years and there are always people here to connect with. So we brought our lively and active community directly to the app. Tap the "People" section for a shortcut to the forum.
But that's not all – we wanted to add an element of surprise – something a bit different than you may not expect. After all – we're here to challenge!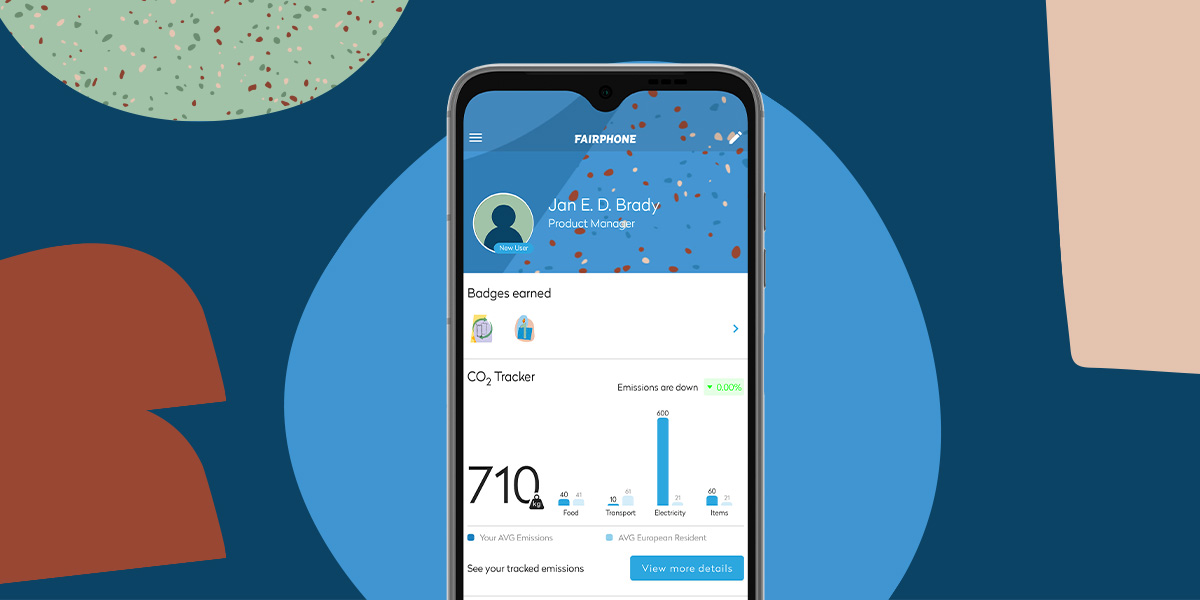 And so we have added some new elements to our app. We know you take sustainability seriously, so under the "Planet" section, you will find locations of sustainable options in your area – again we start small here focusing on some hotspots of Fairphone owners, but we will continue to roll out new locations regularly. What we want to do here is to make you aware of some sustainable options which are available to you in your local area to support you on your journey to a more sustainable lifestyle. We will be adding more options in the future here too! We know from our own experience that in a world full of choices, having a guide to help you achieve your goals is a useful and powerful tool. As the companion that is always with you, our phone can act as a tool to offer different choices, focus on issues to tackle and create habits that are not only good for the planet but also good for yourselves.
… and more
Next comes the fun part. We have introduced something called Green Challenges. The great thing about our lifestyles is that they can change over time, and being conscious of the choices we make and the impact they have, can help us to make changes to achieve our goals. We introduce green challenges to you as a way to be conscious about the things that we may not always have time to think about during our busy lives. If you opt-in, every so often we will send you a little story about a sustainable lifestyle topic and at the end challenge you to take part with us to either lower your CO2 amounts – or sometimes simply make a healthy or conscious change in your life. There are many ways to do that – and we hope to have some fun with you over the coming years with these challenges.
Whilst we know that Green Challenges may not save the world – as the saying goes "many small actions can add up to a big difference" and we hope our community will join us as we take a new step on the Fairphone journey to act together as one community to take steps towards even more sustainable lifestyles.
We invite you to join the My Fairphone App and collaborate on making this the tool that's right for you. Feedback, ideas and questions are always welcome.