Fair Materials 101: Going beyond conflict-free materials
Everyone who has read the book or seen the movie Blood Diamond knows something about conflict materials. They're raw materials or minerals that come from a particular part of the world where war or armed struggle is occurring, affecting the mining and trading of those materials. The conflict focuses on four materials: tungsten, tin, tantalum, and gold (so called '3TG'), which comes from the Democratic Republic of the Congo (DRC) and surrounding countries. These materials are often artisanally mined (ASM).


More than unfair; it's conflict
The DRC and surrounding countries are not the only places where conflict over materials occurs – there's more than physical conflict, affecting more materials, and in more places. While an industry contract to purchase mined materials may not be funding armed insurgents or local warlords, they just might be supporting child labor, environmental destruction, or even slavery.
In other words, it's not enough to simply buy conflict-free materials, because beyond conflict lies the social and environmental aspects that are affected.
Many industry and government initiatives monitor and report on conflict materials, but few actually engage to support true, positive impact that focuses on safe and healthy working conditions, human rights and environmental impacts of raw material production.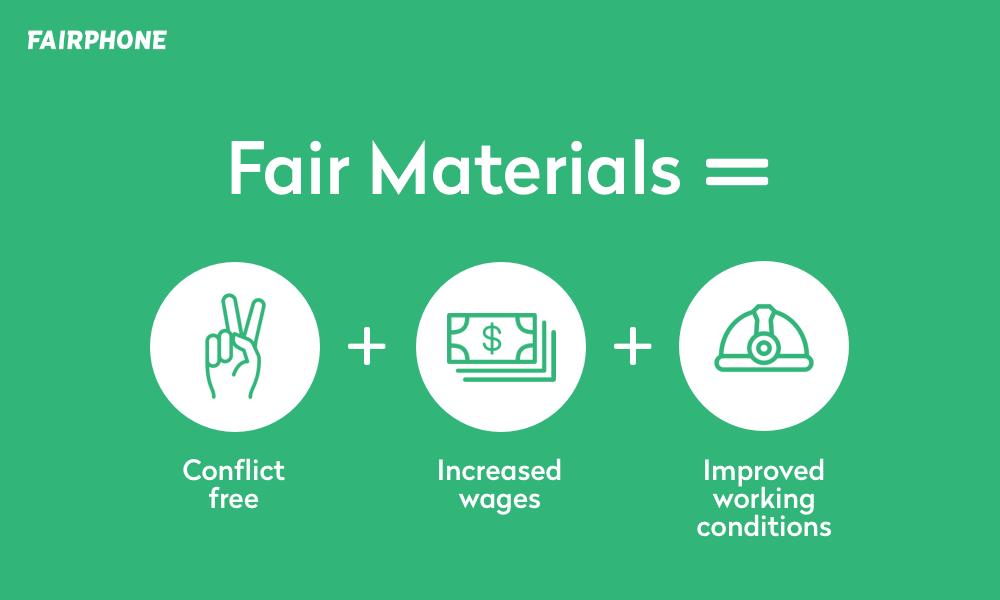 At Fairphone, we want to have a comprehensive view of the impact of every purchase we make, every contract we sign, every phone we produce. The Fairphone community wants the money they spend on their phones to do more than not fund conflict — they want to actively promote fair, responsible, environmentally sound practices wherever they exist. Remember one of our previous blogs? Mining can also be a source for good.
Who needs to do what?
In order for ASM mines to move from 'conflict free' to truly responsible and sustainable – such as Fairtrade certified – serious time, effort, and money is required and it needs to come from beyond just industry and government initiatives. Demand from the broader industry (i.e.more companies, but also consumers), is necessary to justify the financial investment needed for this improvement to happen and it won't happen in the blink of an eye. We're up against systemic challenges that have been forged by the type of "hear no evil, see no evil" purchasing behavior that we've witnessed for years. Now that consumers are "seeing it" more, thanks to Hollywood, and information is available at the click of a button, the industry must address these risks (financing conflict) and work towards improvements through engaging, not avoiding.
To be fair…
At Fairphone, we're still a long way from the goal of a phone that's fair and earth-friendly through and through. With our focus on continuous improvement, not financing conflict is just the start of the journey towards increasingly responsible practices toward positive impact – fairness. To reach this goal, it means supporting the artisanal mining sector to become more fair – making tunnels safer, properly training miners, and access to better equipment. This is a big job and that's why we need the entire industry to follow our example.
The more industry and consumers create demand for responsible resources, the more incentives will be created along the supply chain for mining practices. This change comes down to all of us — industry and consumers alike — and as the saying goes "if you always do what you've always done, you'll always get what you've always got." If we expect change, then we ourselves need to change the way we use, buy and consume things. That's what Fairphone is doing and will continue to do until fair becomes synonymous with mining.