Meet the changemakers: Fairphone Ambassador Raphaël Masvigner
We're on a journey to change the electronics industry – and we're not alone. While the Fairphone is a physical expression of the possibility of change, it also happens to be a great storytelling device that connects us with inspiring changemakers from all over the world.
In this series, we're shining a light on our ambassadors: a group of bright individuals that share our vision of a fairer future and contribute to sustainable change in their own way. Today, we'd like to introduce you to Circul'R co-founder Raphaël Masvigner.
---
Who is Raphael Masvinger?
My name is Raphaël and I'm 32. I'm a French entrepreneur passionate about the environment. After traveling for 17 months through 22 countries to meet with 150 circular economy entrepreneurs, I co-founded Circul'R with my friend, Jules. Today, Circul'R is building bridges between companies and more than 600 circular entrepreneurs to accelerate the transition towards a sustainable economy.
So this was how you first heard about Fairphone?
I discovered Fairphone four years ago during my world tour to discover circular economy solutions. The Netherlands was one of our first destinations and we had the chance to meet the Fairphone team, as well as other inspiring circular companies such as Patagonia and Mud Jeans. After learning more about Fairphone, we continually presented the company in our conferences as a model to follow regarding its commitment to circular economy values.
This world tour was quite the undertaking! What sparked your interest in sustainability and circularity in the first place?
I guess the turning point came when I was 16 years old. I watched Al Gore's movie "An Inconvenient Truth" for the first time. I realised we were facing major environmental issues and we were not taking concrete actions to tackle the problem. Right after that, I decided to be part of the solution by dedicating time to learn more about environmental issues and what could be done to solve them.
I'm passionate about the ocean and surfing. Surfing made me aware of plastic pollution in the ocean. While surfing you definitely notice the increasing amount of waste in our seas. Every second, 300Kg of plastic ends up in the ocean. At this pace, there will be more plastic than fish by 2050. The good news is that a growing number of people and entrepreneurs are taking concrete actions to avoid such a situation. The Surfrider Foundation launched an app called Ocean Zero that is a great help to take small action everyday, highly recommended!
It's a sobering thought for sure. Is there any specific thing that really drives you forward in your life and work?
I cannot live without three things: family, friends and nature.
Those are the most important for me too! Do you have any tips on sustainable living for our community?
I like this quote: "Happiness is wanting what you already have." My tip would be to be satisfied with what we have, and challenge yourself to move towards a zero waste lifestyle. Share your tips with others, keep on being curious, and don't be too hard on yourself while implementing this new lifestyle!
I'll try to immediately take your advice on being curious; I'm sure you've met amazing people and had incredible experiences during your travels. Can you share some of your favorite memories shot on your Fairphone 3?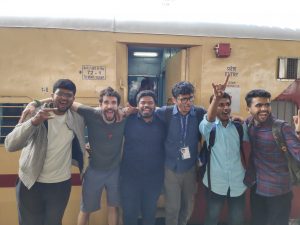 Mumbai, India, January 2020
This is one of my favorite photos. Last December, I took a train with 400 aspiring Indian social entrepreneurs. We traveled for two weeks all around India to meet role models that have created solutions to tackle climate and social issues in the country. This project is called Jagriti Yatra. Here is the team I shared my amazing journey with (from left to right): Sadai, myself, Hemanth, Shoven, Nimesh and Powen.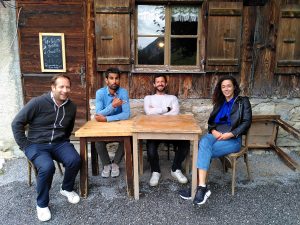 Talloires, Les Alpes, France, June 2020
A special moment with my friend on the mountain, waiting for a delicious tartiflette and some good wine.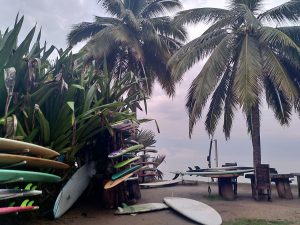 La Saladita, Guerrero, Mexico, August 2020
La Saladita, a far from everything. The perfect spot to practice surfing where you will meet turtles, small sharks and dolphins. Pure happiness!
Thank you for sharing! What is it like having your Fairphone 3 alongside you during these kinds of experiences?
Fairphone is a great tool to start a conversation about sustainability and circularity. Whether you are at work, having a coffee, or traveling, use your Fairphone as an ice breaker to exchange ideas about this topic with people you don't know. It will surprise you how well it works!
Having those kinds of conversations can be a really effective way to share Fairphone's mission. Do Fairphone and the Fairphone 3 also have a direct impact on your work?
At Circul'R, we do many conferences to raise awareness about the solutions to transition toward a circular economy. To convince people, we need to present concrete projects. Fairphone is a great and inspiring example as it is a product we use daily. With it, people easily understand the importance of eco-design and circularity. They can also become circularity ambassadors by having a Fairphone or sharing its story and purpose with their friends.
Thank you for your time, Raphael, and for your commitment to a fairer future!
---
Check out Circul'R's website and their LinkedIn, Instagram and Facebook.
For more on Raphael, Circul'R, and our other Fairphone Ambassadors, stay tuned to this blog or head on over to our community page.