Launching Fairphone 3: Dare to care
On behalf of an incredibly proud team, and the entire Fairphone community, I'm delighted to announce the launch of the Fairphone 3, our newest response to the growing demand for a more ethical, reliable and sustainable phone.
This is the phone for all of us who dare to care about what kind of a world we're creating with our purchase decisions. For all of us who want a great phone that is kinder to people and to the earth. For all of us who believe that care for workers and our planet ought to be a natural part of doing business.
This is so much more than a phone – to Fairphone, to our community, to an entire industry, and to me. It's a physical expression of everything I believe in and have worked for in my career.

Let Fairphone's CEO Eva Gouwens introduce you to our latest milestone.
I was raised by a pastor and an engineer. They taught me to believe that my talents and privileges come with a responsibility to choose how I use them. From my father I got an appreciation for the power of facts and well-organized systems. And at big multinationals I got an understanding of how these systems embrace and resist change. In the last ten years I've experienced first-hand the power of social enterprises to move entire industries simply by bending the rules about what's normal and what's right in tiny ways. When people get behind those tiny changes, the results can be amazing. I admire Anita Roddick, founder of the Body Shop, for how she transformed the way we think about the ethics and sustainability of personal care products. She once said: "If you think you're too small to make an impact, try going to bed with a mosquito in the room."
That's how Fairphone started: as an ethically-minded mosquito in a room full of giants. There were plenty who predicted we wouldn't last a single night.
But a community gathered around the idea of Fairphone, and our community has kept us alive. That community included industry partners who opened doors that had once been closed to talking about sustainability and workers rights. That community included our employees who kept pushing back against every challenge you'd expect to face when disrupting an entire industry and a centuries-old way of thinking. But the most important part of that community was you, the Fairphone user. You've supported us at the same time you've kept us sharp and kept pushing us harder. You grew with us through all of our growing pains. Fairphone 3 wouldn't exist without all of you — it's here to meet the demand for an ethical, sustainable, reliable phone that you have collectively demonstrated.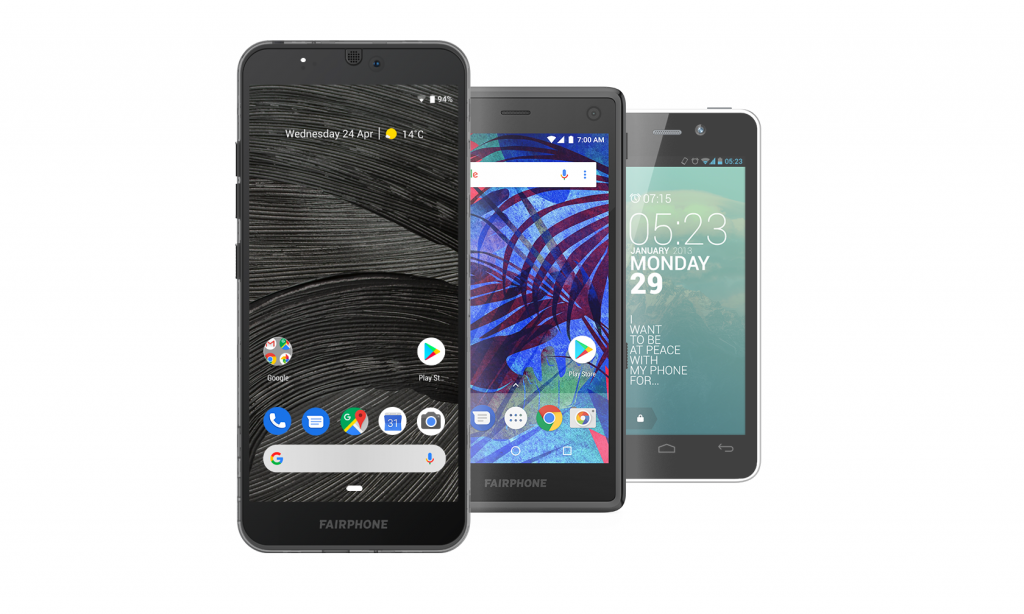 With every phone we make and sell, with every industry partner that follows our example, with every customer who starts a conversation about what makes their phone fair, we take another step forward in our quest for a fairer electronics industry. Our first challenge was to prove you can make an ethical phone and survive. Now we're out to prove to the industry that it's the best way to thrive.This is our 3rd generation phone. We've learned massively through experience, and that's essential when you're blazing a trail for which no map exists. We've strengthened and professionalized our organization. We've built a more stable and scalable company. We focused on further improvement of our product and supply chain, and we've worked on expanding our impact and sales.
We scaled up our partnerships with operators and resellers so we're available in more places around Europe. We increased our combined marketing efforts, so you'll see more of Fairphone in the public space. We scaled our supply chain initiatives, so you'll hear more about our international impact all over the world, from Uganda, Ghana and China. And we improved our product user experience, so you'll see more happy Fairphone users.
When you hold a Fairphone 3 you're holding more than a bunch of impressive specs. Sure it's got a brilliant camera, the battery life is awesome, the screen is big and crisp, and there's heaps of memory. But what sets this phone apart is an idea that millions of people have turned into something incredibly powerful: a proof of concept for a future that's kinder to humans and to the earth. A statement that a better world is possible. That change is in your hands.