Keeping your phone longer with a refresh on the inside and out
Update, 3 Oct 2018: Before the public release, our testing showed we needed to solve one last thing to ensure, to the best of our abilities, that Fairphone 2 owners have a better upgrade experience. We still feel like we're nearing the finish line and will definitely spread the news as soon as we reach this milestone. Subscribe to our newsletter or keep an eye on our social media channels to be the first to know!

---
There's nothing better than the feeling of a new phone in your hand… except for the feeling of an old familiar phone that you've kept and cared for all these years. So, we're excited to announce that nearly three years after the introduction of the Fairphone 2, we're not releasing a new model just yet. Instead, we're aiming to extend the life cycle of the phone as much as we can.
Device longevity relies both on hardware and software. We're adding new see-through covers to our collection of protective cases. A transparent cover lets your phone do the talking, telling the Fairphone 2 story by highlighting and protecting its unique modular hardware. Device longevity relies on healthy software too: we're also working hard to update the Fairphone 2's operating system, so your phone can tell the story of fairness for even longer.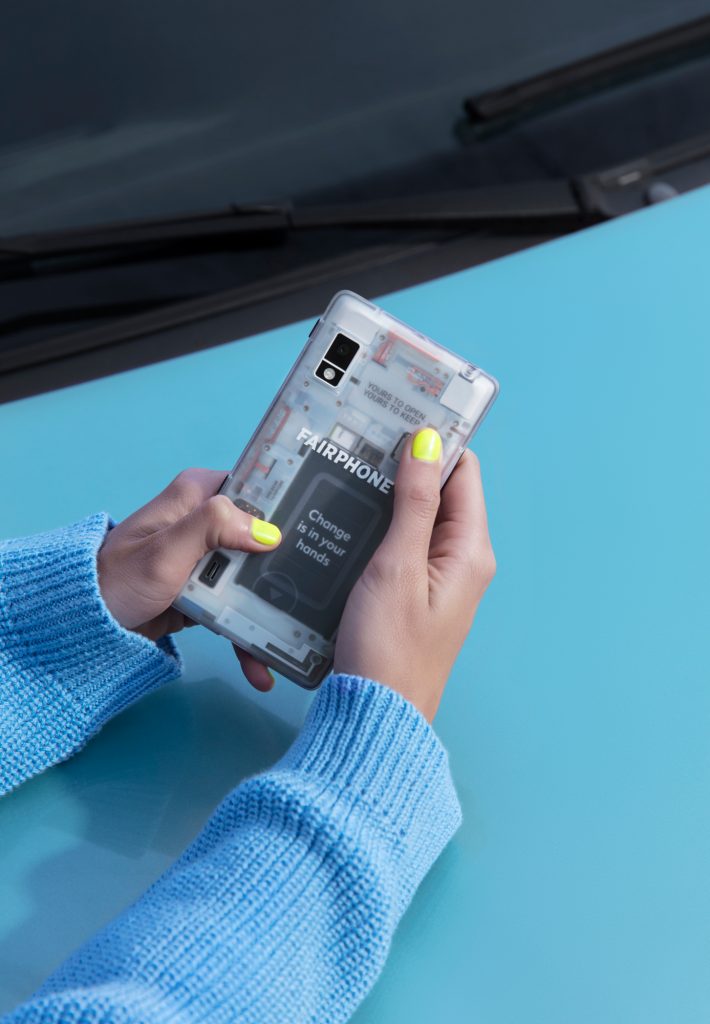 The new transparent case for the Fairphone 2
Translating software updates to hardware longevity
Right now, we're hard at work to get Android 7.1 "Nougat" into the hands of existing and new Fairphone 2 users this summer. Crucially, it means we'll be able to keep our users safer for longer: Nougat will enable us to keep providing monthly security updates and patches. Android 7 also brings Doze Mode 2.0, a feature that aims to extend battery life by putting inactive apps on standby. However, it's smart about keeping fitness and tracker apps going when they really need GPS or WiFi.
At Fairphone, one of our primary goals is device longevity. So for us, it made sense to face the time and resource challenges that this update required head on, and try as much as we could to make it happen. We want to keep your phone working for as long as possible so you don't need to replace it as often. Secure, up-to-date and useful software is essential to achieving this goal. Releasing software updates for higher versions of Android – further than Android 6 – with the Fairphone 2 chipset is more challenging and success for the work on the release of newer versions is not guaranteed. That's why, despite the ongoing challenges, we've been working hard with a community of Open Source Android developers and external parties to try to offer software updates, and will happily be rolling out Android 7 this summer.
Now, you may be wondering, "why not Android 8, 'Oreo'?". Android 8 and 9 are entirely new levels of complexity from Android 7, far more different than 7 was to 6. Therefore, attempting the upgrade to 7 was the best option. This update will be the second major update to the Fairphone 2, but it will also mean that Fairphone is one of the few manufacturers on the market that released an update to Android 7 with a Qualcomm Snapdragon 801 chipset. Our work on this update will be publicly available and could, in theory, be adapted to the same chipset on other phones.
Safety on the inside, transparency on the outside
So, along with upgrading your Fairphone 2, how about giving it a fresh new look? Back in 2015, when we launched the Fairphone 2, we were sure that allowing our community to take a peek at what is inside their phones was a good way to kickstart a conversation, and a great incentive to dive deeper into how our products are made. The design of our first transparent covers changed eventually to make them more resistant and durable when we first introduced the slim cases, but we didn't include a transparent option. Now we're excited to bring back two see-through cases: transparent and black translucent, to show off the Fairphone 2's modular, made-to-be-opened design. The new protective cases have the same design as the current slim cases, meaning they're durable and long-lasting.
We hope that these new cases spark an interest in learning more about how your products are made, as well as great conversations about how we can keep having a positive impact. The more people who hear the story of Fairphone, the more we can spread the word about fairer electronics and create real change.