The Fairphone 2 earns Gold at Cannes Lions with sustainable design
For the creative sector, the Cannes Lions International Festival of Creativity is the pinnacle of annual industry events. Many agencies spend years dreaming of taking home a coveted Lion award. Which is why we were very honored to hear that the design agency, seymourpowell, and the Fairphone 2 won a Gold Lion last week for product design, in the sub-category sustainability and environmental impact.
Creativity as a force for change
According to their mission statement, Cannes Lions believes that "creativity is a powerful force for business, for change and for good in the world." This closely echoes what Fairphone and seymourpowell set out to achieve when we designed the Fairphone 2. Our modular construction isn't just about being unique – we wanted to change the way products are made and used. Modularity makes it easy to repair and upgrade our phone, allowing owners to use their Fairphone 2 for longer.
Seymourpowell and Fairphone won Gold at Cannes Lions 2017 for the modular Fairphone 2.
We're so proud to have won this prestigious award for sustainable product design. It's clear that the jury didn't only look at the product itself, but also took our entire story into consideration. To us, it's a sign that our efforts to make improvements throughout the supply chain and spark conversations about issues like fair mining and working conditions are starting to make an impact.
Janwillem Bouwknegt, partner and creative director at NPK Design, was one of the members of this year's jury. As we were up against some major names in our category (including 'Liam' by Apple, 'Air-Ink' by Heineken and Marcel Sydney, and 'Zera' by Whirlpool Corporation and Digitas LBi), we were very curious to hear why the Fairphone 2 came out on top. Janwillem kindly shared a bit of insight into the jury's thought process with us:
"Both the modularity and the ethical vision were seen as very innovative. We were especially surprised by the modularity: that a small initiative can deliver where other multinationals clearly see the potential, but fail in the execution.
The other jury members had no knowledge about the Fairphone, but were all amazed by the vision and surprised that they had never heard of the initiative. They saw enormous potential for it… It makes people optimistic in seeing such a sign of the times: that companies are starting to feel the need to think about the supply chain and the complete product life cycle of the products they produce with a holistic and ethical mindset."
Hats off to seymourpowell
None of this would have been possible without seymourpowell's hard work. Over the course of developing the Fairphone 2, their team was especially proud of creating some of the details that contributed to the final user experience, such as clips that make it easy to replace the screen without tools, and styling of the interior to support accessible repairability and storytelling.
When we asked them what winning this award meant to them, Matthew Cockerill, Creative Director at seymourpowell replied:
"There is great personal satisfaction for myself and the team at seymourpowell for winning such a globally recognized award with Fairphone. But more important to me is that because of the award's reputation amongst global brands and their key decision makers and creatives, it provides a further platform to promote the message and mission of Fairphone… to change the way products are made."
Matthew also shared a call to action for other brands and creatives:
"I would stress the importance of sustainability in the minds of brands and their key decision makers. They create the product briefs that product designers are asked to execute, and so they directly impact whether a design is sustainable or not. Technology and long-lasting design can drive sustainability in the final product and fairness in the whole supply chain, from the mining of minerals that go into the handset's internal components, to the workers producing the final product."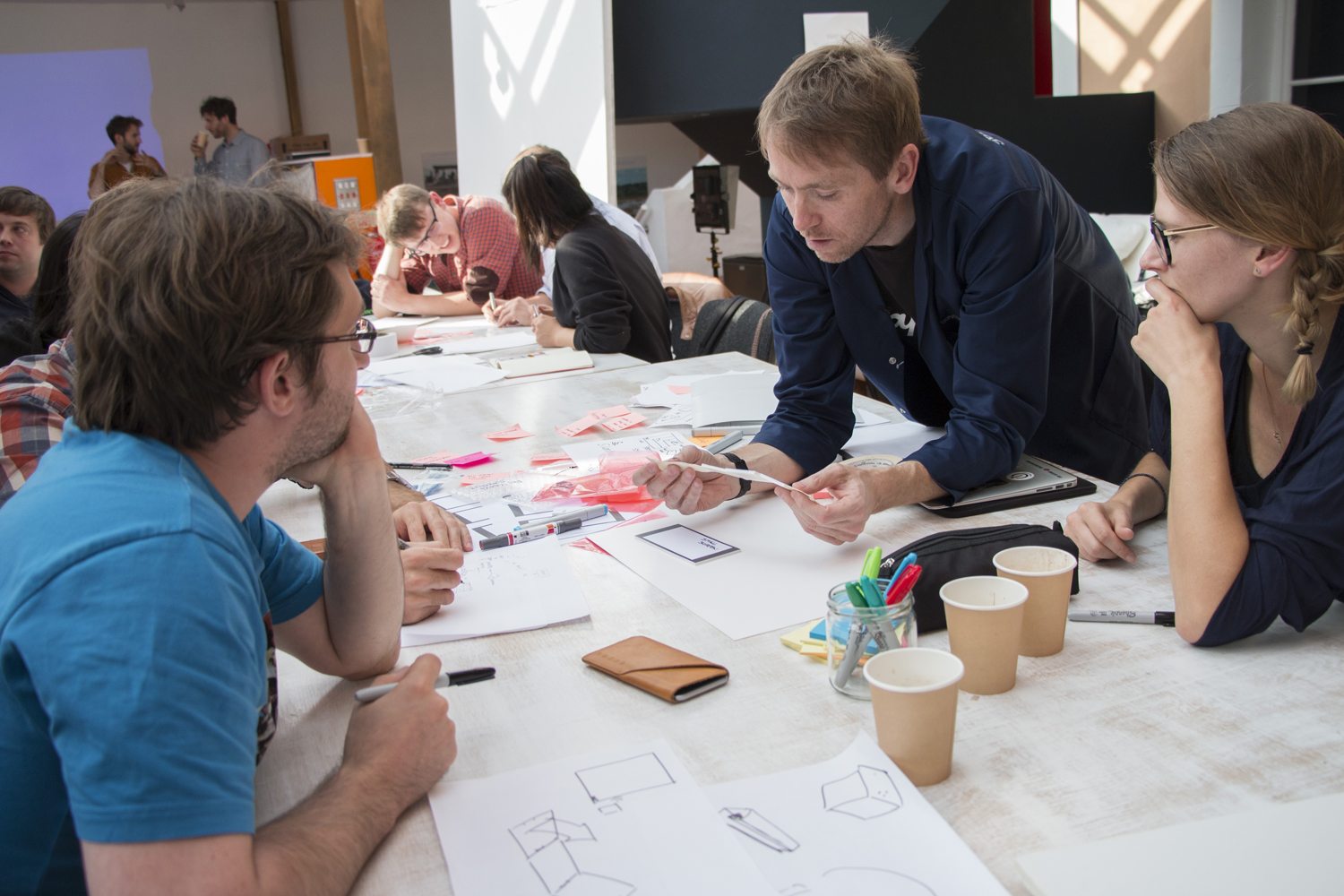 Matthew Cockerill, Creative Director at seymourpowell, during a Fairphone design workshop at the London Design Festival 2015.
A big thank you to our community
Even with a clear mission, a great team and an innovative design, there is no guarantee that a product will be a success. So we'd like to say thank you once more to our community of fans and Fairphone owners. It's people like you who believe in us, buy our phones and spread the word about what we do that make all the difference. Thanks to you, we're able to win awards like this and generate attention worldwide. We're grateful of your support.
Header image source: Department for International Trade – Creativity is GREAT