Our approach to developing the next Fairphone
Last week we hit a big milestone in Fairphone history. On Tuesday, we re-opened our shop to sell the final shipment of available Fairphones and within an hour and a half – we sold out! We're extremely thankful to our group of first edition owners for making the company and our mission a success. Now that we've sold all our 60,000 first edition Fairphones and we're ready to start on the next leg of our journey… what exactly is next?

Later this year, we'll be launching a new, second generation Fairphone, designed to help us achieve even more of our objectives for fairer electronics. It builds upon the accomplishments of our first Fairphone to expand our influence in our key impact areas: mining, design, manufacturing, and life cycle.
In this post, I want to introduce a new blog series to showcase what we're achieving on the development and production of our next phone. The next few months will be very exciting, and we're eager to start rolling out news to our community!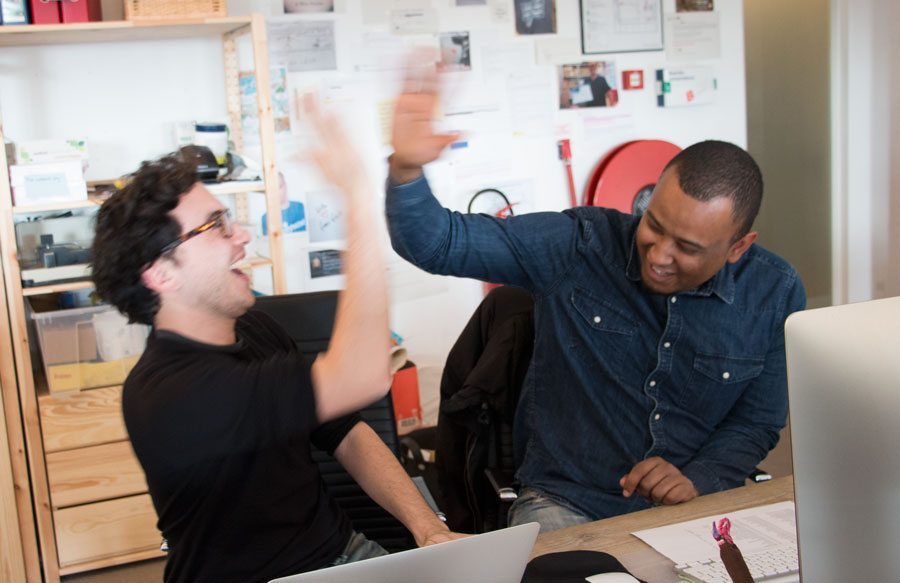 Joe and Nur celebrate selling all our first edition Fairphones.
Fairphone: our original design
The biggest step we're making this year in our strategy to create a fairer supply chain is to design our own phone.
For the new phone, we want to move towards even greater transparency in the supply chain to better enable us to extend our social and environmental impact. In this way, designing the phone ourselves allows us to create more visibility in our own supply chain.
Greater control means working with a manufacturer that is open to our input in specifying the components and vendors that we want to use. For example, integrating conflict-free or fair trade minerals into our supply chain requires a manufacturer to work with our preferred subsupplier.

First edition Fairphone's printed circuit board containing conflict-free tin and tantalum.
Further, developing the phone ourselves puts us in a position where we can make stronger relationships with some subsuppliers who share our values (not only our own top-tier manufacturer). We hope to tell you more about these component suppliers as we progress in development of our new device.
Developing our own design will also allow us to innovate on longevity and repairability in the phone.
In our product design and engineering, we will put longevity at the center of our work. The longer a phone lasts, the less waste it creates and the fewer resources it requires. One of the choices that follows from this thinking is that we are making a higher-end product. Doing so allows a product to last longer and remain competitive in a fast-moving sector. A high-quality product, which uses high-quality key components will last longer because in principle, these components and platforms will be supported for a longer time.
We are already getting questions about technical specifications, and while we're not ready to announce specific details yet,
We believe that our new phone should have 4G LTE to be a long-lasting device, so this year's phone will have these frequency bands.
We do not yet have any news about possible alternative operating systems available for the next Fairphone, but we have been hearing community interest for this and will share more news in the coming months regarding what software will ship and be supported on the device.

A phone designed to be repairable means users can open up and repair their phones themselves.
On-demand production keeps us independent
The moment we sold out last week, we began an interest list for the next Fairphone.
By signing up for this email list, you're letting us know that you're interested in owning a second generation Fairphone. It helps us to get an idea of the production demand, so that we can better plan our production schedule.
We'll use this interest list to send you emails with the latest information about the phone, as well as the production and ordering process. Once production starts, we will open the shop on a first-come, first-served basis.
Another step in our strategy regards the shift from batch production to continuous production. Our aim is to work toward a stable production schedule, based on demand – trying to prevent overproduction or peak periods so that assembling plants can plan carefully and offer stable work. There are still many aspects of the production process to consider for this goal to succeed, but this is our ambition.
Next phone in development, expected after summer 2015
For the first few months when our shop opens, we will work with the (by now familiar) pre-order model. Working in this way helps us remain independent, keeping a firmer grip on our social mission and giving the power to our community of buyers who show that there is a market for ethically produced products.
Many of you have asked about where you can buy the phone this year. We plan to continue with our online shop available in English, Dutch, and German so that we can offer a customer experience direct from Fairphone HQ. We will also be working with a few resellers in different countries who will be able to offer the phone through their channels. We will announce these as we confirm partnerships, and we're happy to hear your own suggestions for ethical partners or resellers in your area.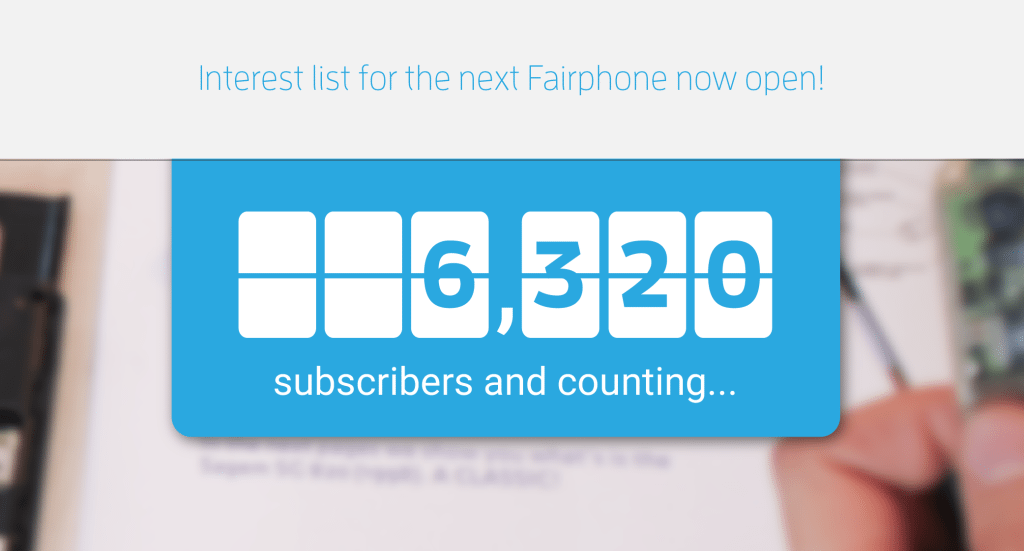 As of the posting of this blog, the total number of subscribers to our interest list.
Next Fairphone FAQ
Since we have been receiving a number of questions about the next Fairphone, we have compiled all our answers in one place. Read our FAQ about the next Fairphone. Here are a few that we receive most often:
How many phones will Fairphone sell and produce?
Our aim is to produce and sell 150,000 phones per year. As we plan to start sales after summer, that means about 50,000 for 2015 and 150,000 in 2016. In short, our plan is to produce a total of 200,000 phones by the end of 2016. While this is our current outlook, plans could change depending on production. Read more about why we are planning for this volume quantity.
As we discussed above, our ambition of a continuous production schedule means that we need a proper indication of the interest of the market for this year's Fairphone. You can do that by subscribing to our interest list.
Can I buy the next Fairphone outside of Europe?
Phones are expected to be released after summer 2015, shipping first only in Europe. We hope to expand to other countries in 2016. We are in the process of measuring interest and demand to prepare for launching the Fairphone in areas outside Europe. Read more on our FAQ.
What to expect in the next weeks and months
We will continue to keep our community up-to-date here on our blog. We have a number of exciting announcements in the coming weeks, like announcing our manufacturing partner, stating the outcomes of our partner's social assessment report, as well as information on the product concept and development phase. Keep reading on our blog, and don't forget to subscribe to the next Fairphone's interest list to show your interest!
*First edition phones are still available through our reseller in the UK, the Phone Co-op. For residents of the Netherlands, there are phones available via KPN or without a bundle at KPN XL locations.