Design A Day winter edition starts Monday
Calling all creative minds! Do you want to see your idea turned into a 3D-printed Fairphone case? Then now's your chance. On Monday 1 December, we're kicking off the winter edition of our Design A Day challenge, and we need your help.

From 1 to 5 December, you can share your fun, inspiring, artistic and surprising ideas using our Design A Day tool. And by ideas, we mean everything – a few written lines, hand drawings, sketches, or a photo – the simpler, the better! Every day, I will develop a new case based on our favorite idea. Once the idea becomes a design I'll be using Blender to create the final 3D file and print it to test with our office 3D printer. If your concept is selected for one of the designs, I'll add your submitted username (or name of choice) printed on the interior of the case design.
Start designing now!
The Design A Day challenge is an exercise in collaborative design and product development with an added twist. Because the cases are 3D printed (and not mass produced), we're also exploring the possibilities of local distribution and on-demand manufacturing.
The first Design A Day challenge
took place in July this year, and based on success of the pilot, we decided to roll it out once again as a recurring project.
Here's how the Design A Day challenge works:
Design A Day is a rapid prototyping process with our whole community – except the end result isn't just a prototype – it's the final product. Using your creative ideas, we design a new 3D-printable Fairphone case every 24 hours, five days in a row.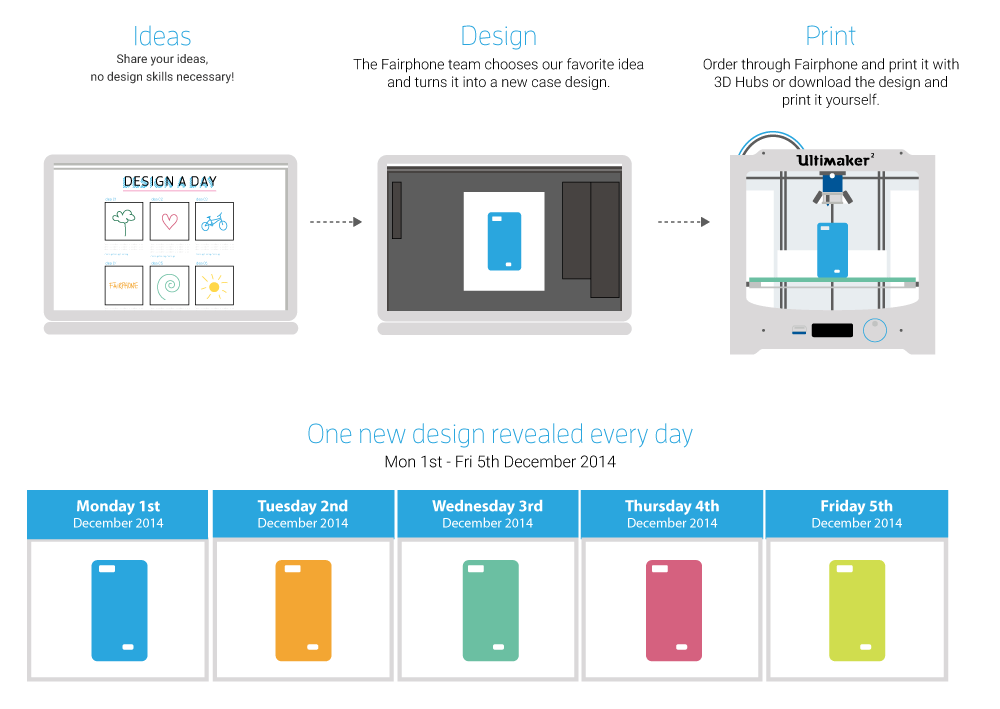 Order from Fairphone, print with 3D Hubs
There's no denying that 3D printing is cool. So cool in fact, that we've recently welcomed a new addition to our office: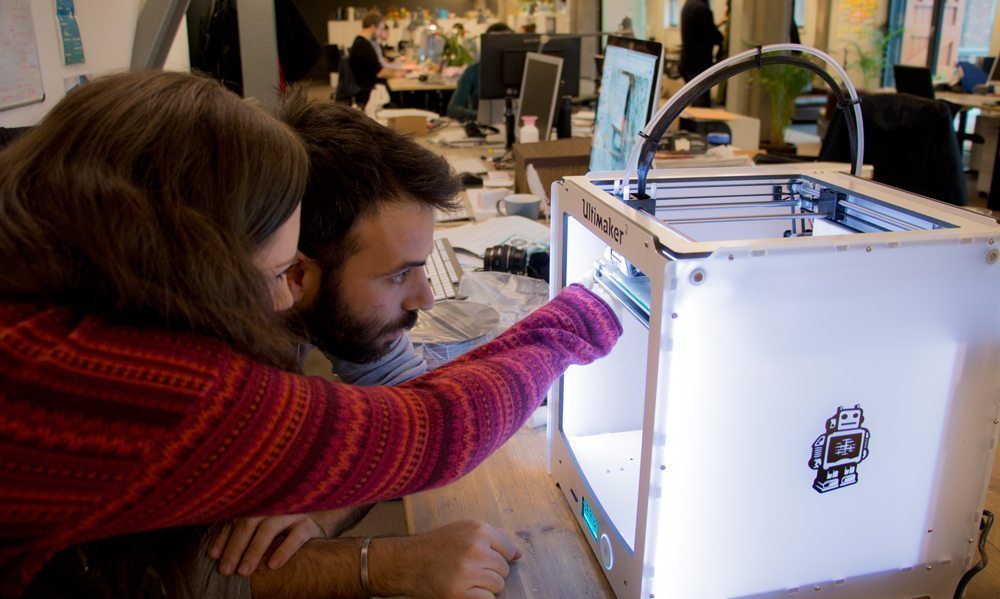 But we realize that not everyone is lucky enough to have access to a 3D printer. That's why we've partnered with 3D Hubs, one of the first organizations to make 3D printing widely accessible to average consumers. Their distributed 3D printing network currently includes more than 9,000 locations, and a couple hundred of those have been selected as 3D Hubs for this Fairphone 3D-printed case project.
Because every case is printed on demand, ordering is a two-step process:
Go to our online shop, select a case design and place your order. Each case costs €18.00 including VAT.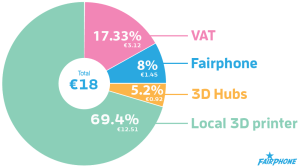 Once your payment is received, you'll receive a confirmation email with a 3D Hubs voucher to select your preferred printing location. Please be sure to open the email, click on the voucher image and select a 3D Hubs location to start the printing process. Once you've selected a 3D printing location, you can choose a color for your case (color options differ by location).

Your selected 3D Hub will confirm your order and let you know when your case will be ready. We recommend going directly to the printing location to pick it up – it's a great opportunity to get to know your local maker community. You can also ask your 3D Hub to ship your finished case to you. (Shipping requests/costs are facilitated by your 3D Hub, not by Fairphone.)If you do happen to have access to a 3D printer at home, work or school, you can also download the .STL file free of charge and print it on your own. Go to the Fairphone shop and select one of the case designs. Under the "Add to Cart" button, you'll see a link to download the file. Read here for more info about ordering and printing your 3D-printed case.
And in case you've never seen a 3D printer in action before, be sure to check out this video:
Time to get creative: Start sharing your ideas!
We want to hear from you! Put on your thinking caps and start coming up with wild and wonderful concepts for a new batch of Fairphone case designs. Multiple submissions are welcome. You can share your ideas starting NOW. Starting Monday, we will be reviewing the design submissions and at 1300 each day we will begin printing that day's design. Submissions close on Friday 5 December at noon. We can't wait to see what you dream up this time!