Production Update: Delivery Schedule
If you're reading this, we can assume you have some interest in the Fairphone. Even more so, quite a lot of you have purchased the phone and by now can't wait to hear more about delivery. You deserve a production update!

We like to keep our blog open for all individuals in the community, but since this is focused especially on our Fairphone buyers, be forewarned this is heavy on the production and delivery timeline. We'll start this blog with a long-anticipated schedule for delivery of your Fairphone. We would have preferred to tell you earlier, but there are just so many things involved in gearing up and aligning processes for production that it was hard to pinpoint dates. Time to make it more transparent for you, so we've visualized the last phases of production so you can follow these steps with us in a colorful infographic that our designer Nico made to explain the timeline ahead.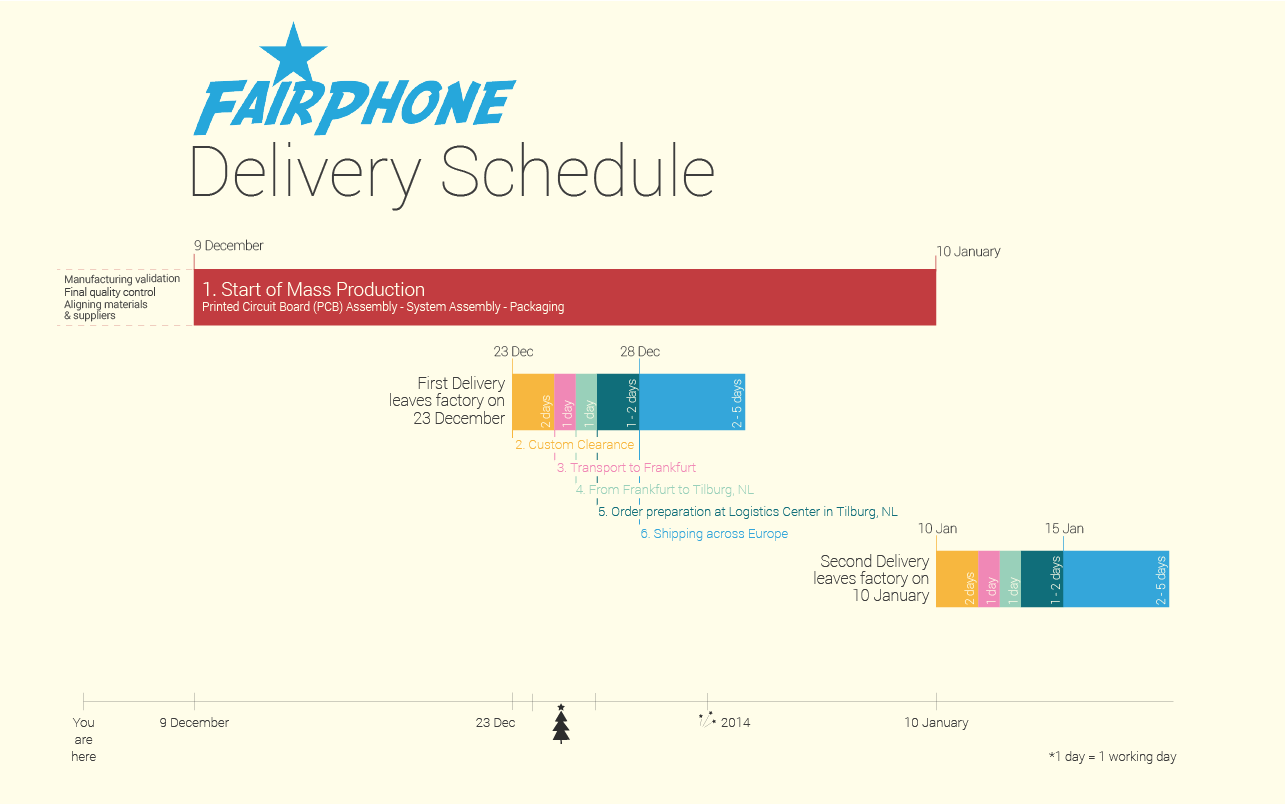 Fairphone schedule for delivery timeline. Download here.
Two Deliveries
First big news is that we are delivering the Fairphones in two deliveries – in close dates to each other, of course. One for the first group of backers who bought a phone during the pre-order campaign, and another delivery soon after consisting of everyone else who joined us along the way. Our other announcement is that not all Fairphones will make it to future owner's homes in 2013. The first batch of around 11,000 phones leaves the factory on the 23rd of December 2013, after which it will make its way to your respective homes after Christmas. The second delivery leaves on the 10th of January, 2014. Unfortunately, we won't able to get all phones to everyone in December, but the deliveries will be sent to you based on the time you ordered, meaning that the earlier you ordered, the sooner you'll receive your phone.
We want to apologize for the delay and that we won't make a Christmas delivery. We want to take the opportunity to explain to you below where we are now and what's to come. We take this delivery very seriously, as our buyers have invested a lot of time, trust, and of course money, in this intertwined project and product, so we want to be as open as we can about our logistical schedule.
Delivery & Production
As you can see, depending where you live, the delivery of the phone will take an estimated two to five days to reach your homes from the moment they leave the distribution center. The period allotted to Mass Production in the factory refers to the time that the phones are assembled and packaged. The more stressful and demanding part is the part before Mass Production (that means, now – this week and next week). This is essentially broken down into periods of testing that involve testing the engineering, testing the product design and then finally, validating the processes needed to start making the product in high volume.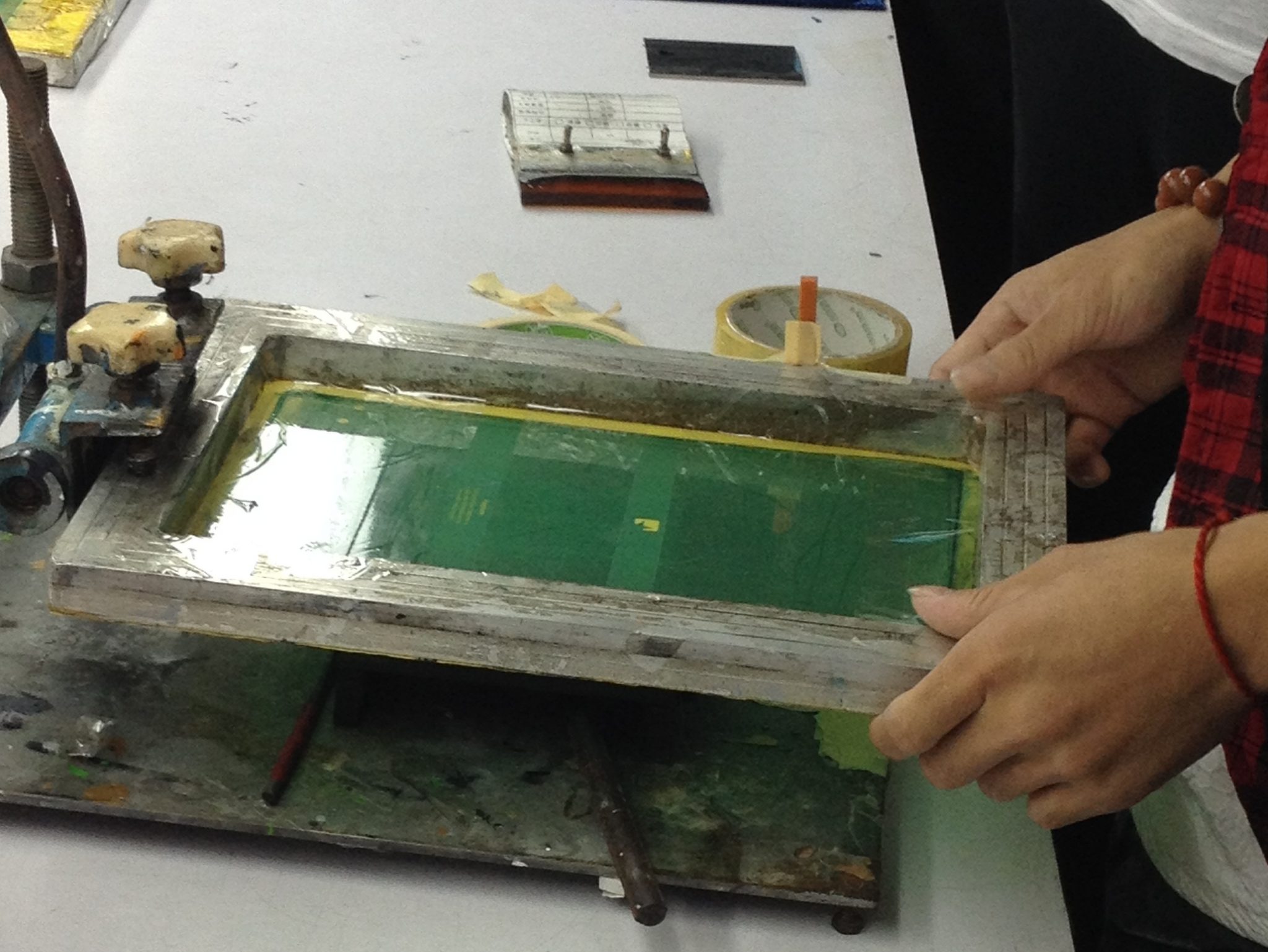 Process of silk screening, involved in printing the back covers.
Mass production only starts, or to keep it technical, as a "ramp up," when this so-called "process validation" has taken place. Basically, this means that when the whole process of assembling a phone yields consistent high quality results the factory (and the purchaser, us!) feel confident to start the assembly.
In the meantime, all the materials needed to start assembly and to keep it going need to be in place or need to arrive on time at regular intervals in order to keep the pipeline process running at a constant speed. This is an intricate logistical process, as assembling factories – depending on the volume they are making – cannot keep all components needed for production in their inventory, but require these to arrive in a constant stream, feeding into this pipeline process. As an example, the housing, the touchpanels, the battery cover, the tantalum capacitors, the tin for soldering, and all the other components need to be ready and available in the right quantities to press the big "GO" button on Mass Production. But that's just the hardware.
Kwamecorp, our software developers have to have the image file ready and then there are also things like applying for an on-time delivery of the "Safety Transportation Inspection Certificate," which is needed to transport batteries by airplane. In fact, this caused us quite a bit of hassle as this document is issued by one institution in the whole of China and took one month and three days to arrive.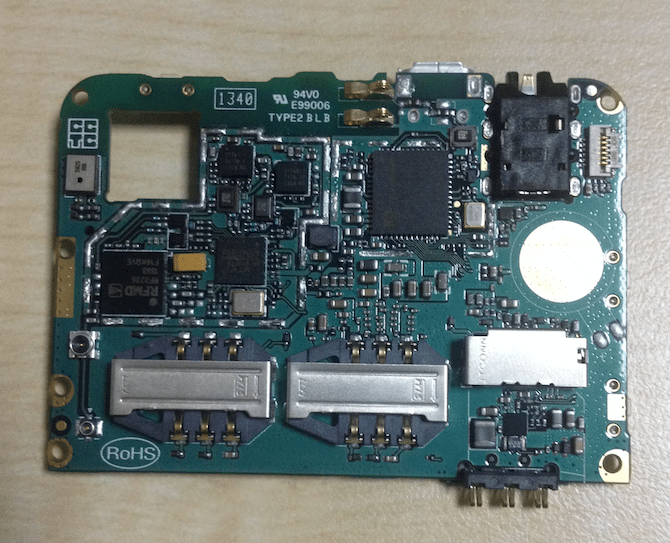 Overview of the Fairphone Printed Circuit Board (PCB).
Now, this may feel like a lot of jargon, but we wanted to explain where we are at this point in time. We are currently in the pre-PVT period (yes, the pre-process validation, I'm learning a lot) and based on the results, Mass Production will start on the 9th of December, getting phones to you in late December to mid January. We're going to use this space to tell you more in short bursts about what's happening, but please also keep an eye on Facebook and Twitter for pictures and updates.
As you've probably seen or read, we're a small team in Amsterdam with a growing number of committed team members spread across London and different parts of China. We're small but we're getting bigger. And along the way, we've gathered an amazing group of you guys – supporters, fans, techie people, interested consumers, people who just want to know a little more about where their stuff comes from. We know it's been a long journey (it feels quite long for us too!), and so we're really excited we're coming into the final stretch to deliver phones to our most committed supporters. Thanks again for your patience along the way, and all your helpful, inquisitive questions as we take the road less travelled together.