Fairphone Pop-Up Space: London
Will we see you in London next week!?
At Fairphone our goal is to open up the systems to discover how our products are made. Lofty goal – but we're doing it step-by-step when building our own smartphone. So even though our prototype isn't our finished product, we know that many of you can't wait to see the phone, hear more about our experiences and meet the team! Well, we've been thinking about the best way to bring our phones to customers and when our partners in software Kwamecorp, in London, offered their space, we jumped at the opportunity. We're still checking out partner spaces in the rest of Europe by the way, to open a foldable, reusable concept and showcase our phones, but for now read more about all the events we have planned next week in London Soho.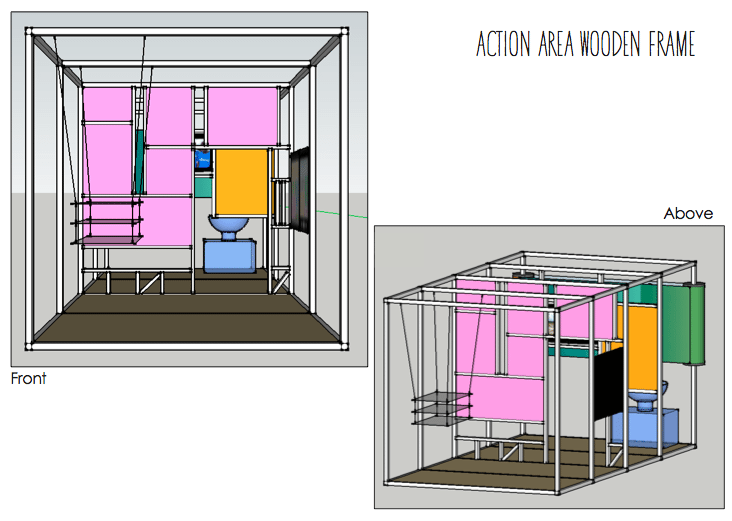 First drawings exhibition area. By Lizzy Tweedale & Viec Nguyen.
Next week, during London Design Week, we'll be
in the heart of Soho
for a few days, where we're creating a Fairphone microcosm with our partners from Kwamecorp. We will be giving you an insight into why we embarked on the journey, how the phone is built, what it's made of, and how you can repair it yourself (easier than you'd think!). You can be among the first to hold a Fairphone prototype and learn more about the considerable challenges faced in the processes behind production. There will be live demonstrations by our partners, as well as presentations, urban mining and design workshops, a hackathon and more! See below the programme in-the-making and RSVP if you are interested in joining one of the workshops at info[at]fairphone.com.
Don't forget to bring your old phone! They will be collected by the Fairphone Foundation, read more about it here.

Fairphone Pop-Up Space: London
Programme  – Active participation required!
94 Berwick Street
W1F 0QF London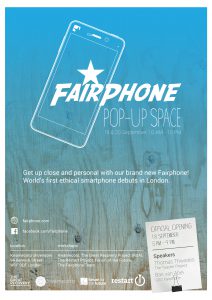 18 September
Opening Night 5 – 9 pm
Speakers:
7 – 8 pm
Thomas Thwaites – Artist/Writer (The Toaster Project)
Bas van Abel – CEO/Founder Fairphone
Due to limited capacity for this event, we'd love it if you'd RSVP with info[at]fairphone.com
19 September
1 – 4 pm  Mobile Platform Design and Development Hackathon – Kwamecorp
6 – 8 pm If you can't open it, you don't own it – The Restart Project
20 September
10 am – 12 pm Design Bootcamp – Forum of the Future (Hugh Knowles)
1 – 2 pm Urban Mining – Fairphone Foundation – The Fairphone Team
3 – 4 pm Circular Design Models – The Great Recovery Project
6 – 7 pm Urban Mining – Fairphone Foundation – The Fairphone Team
Mobile Platform Design and Development
Hackathon by Kwamecorp
Thursday 19 September- 1 – 4 pm:
Mobile Platform Design and Development
We're getting together people experienced in the field — UI/UX designers, engineers, mobile specialists— to participate, give feedback, test, and hack with us.
At the event, developers and engineers will be working on Kwamecorp's existing platform, helping to develop new applications/extensions/tools, as well as general training and hacking. We want you to discuss and help improve the Fairphone user experience and infrastructure and other stuff that makes Fairphone one of the best mobile handsets and platforms in the market.
The event is open to anyone who wants to come and contribute, and is an opportunity to spend time with senior Kwamecorp developers & ops engineers, write beautiful code, and learn about the latest developments. We'll write code together, discuss the software within a workshop on Thursday 19th September from 1pm – 4pm.
If you can't open it, you don't own it
Workshop by The Restart Project / Ugo Vallauri
Thursday 19 September, 6 – 8 pm:
Learn more about The Restart Project and the "self-repair movement" it leads. And, open up a real Fairphone prototype to see what a "teardown" is and how it can help you make your phone last.
In addition to we'll be hosting a support clinic for people with mobile phone questions and queries who can receive advice on how to fix their handsets, how to reduce battery consumption and how to choose a valid spare screen for their damaged phone.
Design Bootcamp II
Hosted by Forum of the Future
Friday 20 September, 10 am – 12 pm:
The bootcamp is a continuation on the prototypes and proposals of the design teams at the Amsterdam Bootcamp in June this year. It will focus on the complexities around mobile phone design, production and the supply chain.
Design outcomes at the time answered the following challenges:
What is the role of end-users if they can locally produce their own phone? And what does this mean for the design? How can you let the user experience that a phone is open and fair? What does this mobile phone look like? How can you make mobiles phones more sustainable in use, re-use and recycling?
For this session, we'll continue working on the idea of Fair plus contract.
How can we encourage customers to keep their phone and make them feel part of a fairer supply chain? The Fair+ contract! You agree to keep your phone longer, and the money you save will be invested in a fairer supply chain. Only when your phone is too old to hold onto, you switch to the latest Fairphone.
Urban Mining
Hosted by the Fairphone Team
Friday 20 September, 1 – 2 pm & 6 – 7 pm:
There are over 30 minerals in a mobile phone. During this session by the Fairphone team, we invite you to open up a phone, look for tin, copper, tantalum, gold and learn more about the issues behind the production. You'll be able to understand through opening up, the relationship between conflict minerals and our smart phones by dismantling a smartphone.
*Bring your old phones for use in this workshop! (or collection by the Fairphone Foundation)
Circular Design Models
Hosted by The Great Recovery Project (a RSA project)
Friday 20 September, 3 – 4 pm:
This workshop will be exploring the four different Circular Design models as identified by the Great Recovery Project, and discussing how these can be applied to mobile phones and beyond.
Design for Longevity
Design for Service
Design for Re-use in Manufacture
Design for Materials Recovery
The format will be partly presentation/partly open discussion.
Everybody is invited, from designers to manufacturers to fans to policy makers to brand managers etc.
External Talks during London Design Week
Global Design Forum– 5 Ideas to Shake the World
Tuesday 16 September, 11:30 am – 1 pm
Bas van Abel
RSA's 2013 President's Lecture – Making the Future
Thursday 19 September at 6 pm
Bas van Abel
Bethnal Green Ventures Demo Day
Thursday 19 September, 7:30 – 8:30 pm
Miquel Ballester
Google Campus: 5 Bonhill St, EC2A London
OK, so needless to say: if you are in London next week – we better see you! Until then!