Introducing the Fairphone Foundation
*Update: As of November 2015, the Fairphone Foundation was incorporated in Fairphone B.V. – the company. It became evident that in order to achieve our objectives and impact the life cycle of mobile phones, moving the foundation's activities under the umbrella of our social enterprise allowed for grater impact.
While you've already heard so much about Fairphone, you have not yet been officially introduced to the Fairphone Foundation. It's about time! After all the buzz about reaching our first goal and selling amply more than 10,000, it's nice to get another insight into what's happening backstage. Meet Peter van der Mark, Sacha van Tongeren and Bibi Bleekemolen!

The Fairphone Foundation is an independent entity separate from the company, however we share an objective: to make interventions in the global supply chain and life cycle of the mobile phone and create social impact. Together we want to create a movement to build a fair economy. That means, among other things, to improve working conditions and also environmental issues – specifically working to increase the benefits for all workers from Congolese miners to Chinese manufacture.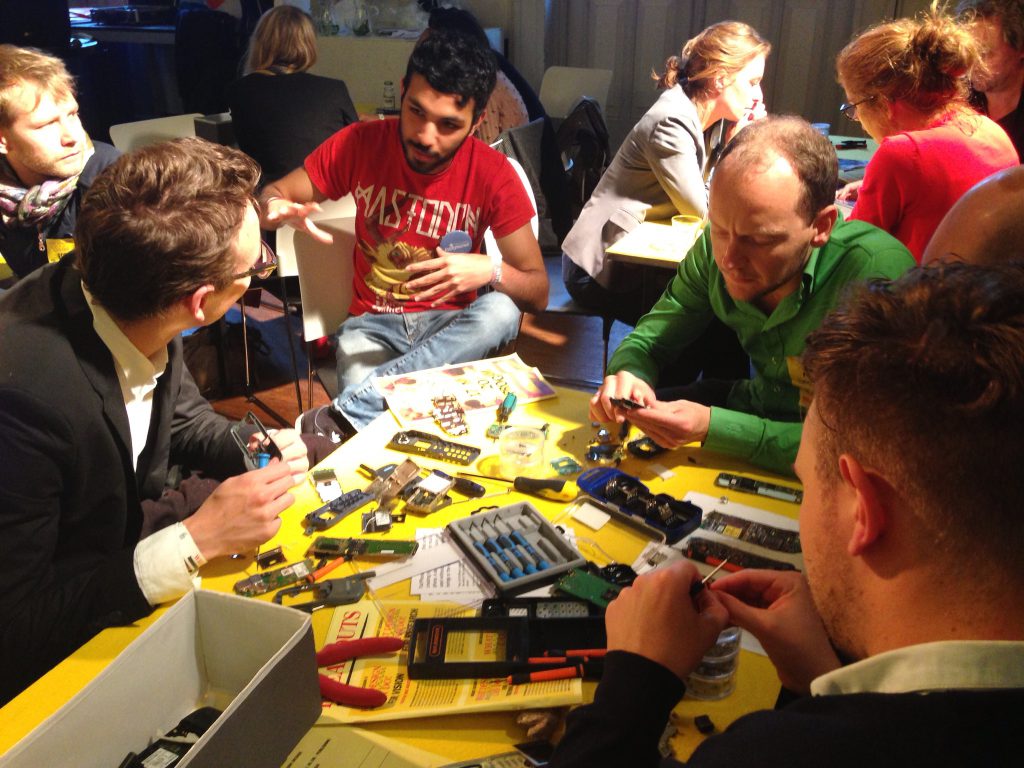 To achieve this objective, Fairphone Foundation conducts research and engages in discussions and initiatives with stakeholders in the field of corporate responsibility, specifically with regard to labor conditions. The outcomes may result in specific activities to directly empower workers as well as serve as input for the company when working on interventions and improvements throughout the supply chain.
In addition to these activities, we work on education and awareness raising with workshops, debates and presentations. For example, we host 'Urban Mining Workshops' at schools, companies and fairs to dismantle old phones and explain the relation between conflict minerals in the DR Congo and our smartphones.
How do we finance our activities?
Are the financial resources for our activities all coming from your pre-ordered Fairphones? No! Although a portion of the sale of a Fairphone goes into future initiatives (like a plan for fairly mined Cobalt), we want to be creative in finding and raising funds. We organize 'phone-raising' in which you can hand in your old mobile phones so they can be recycled. We did this recently in Amsterdam at What Design Can Do. Also, we receive donations from companies and individuals who want to support Fairphone in finding solutions and alternatives for the social problems in the supply chain.
Recently, we received a €2,500- donation from Rabobank! This Dutch bank has its roots of origin in the empowerment of workers and labour unions, a cause we definitely identify with. We want to offer them a big "Thank You!" for their support.
Check the contacts below this post if you or your company want to donate as well.
What can you expect from us in the near future?
Fairphone Foundation will work on concrete answers to help empower workers. For example by helping distribute a so-called 'spectrometer'. When we first visited the southern province 'Katanga' in the DR Congo in 2011, mine workers digging for cobalt clearly expressed their need for tools to increase their bargaining power in relation to the middlemen who are buying the minerals from them.
Nous Sommes FairPhone from Fairphone on Vimeo.
The workers weren't able to determine the quality of the ores, because with the naked eye, you can't see how dense or qualitative a stone is. Does it contain 10% cobalt? Or 40%? No one would be able to tell. In addition, the rock might not contain solely cobalt, but also copper, uranium and other precious resources that are found in the vicinity of cobalt. The artisanal miners complained that they only get paid for the 'main' mineral cobalt, as there is no way for them to prove there are other minerals in it as well. A 'spectrometer' can help determine the quality and substance of the stones, so we want to get those devices out there!
One of our current challenges is to find or facilitate a well-functioning governance structure for the workers to own and use such a tool as a high-tech spectrometer. Making an inventory of already existing structures and initiatives in the area, is therefore the first step. Coming period we will research possibilities and engage in lots of discussions with many knowledgeable people and parties. If you have ideas or leads for us, don't hesitate to contact us!
We want you!
We already have a small-scale beneficiary program with the company GSMLoket, where you as an individual can hand in your old phone. This e-waste regulating company will make sure your phones are recycled properly and share the revenue with the Fairphone Foundation. Many phones still contain precious minerals and components that can be sold and re-used. This sellback program is currently only available to people living in the Netherlands.
We're working hard on finding partners with which we can expand our sell-back programs in Europe and include an option to donate the proceeds to Fairphone.
In the meantime, we have listed companies in other countries for your information on our site. To stay updated on what we're up to, keep an eye on this blog and Fairphone social media, and see below for some more concrete ways you can become involved with the Foundation!
Contact us
– If you want to organize a big 'phone-raising' recycling campaign within your company, school or event, please contact Peter van der Mark (peter[at]fairphone.com).
– Want to support Fairphone with a financial donation? Please contact Sacha van Tongeren (sacha[at]fairphone.com).
– Do you have any leads for us in making a positive impact, with interventions like the spectrometer project? Or interested in us hosting an educational workshop? Contact Bibi Bleekemolen (bibi[at]fairphone.com).